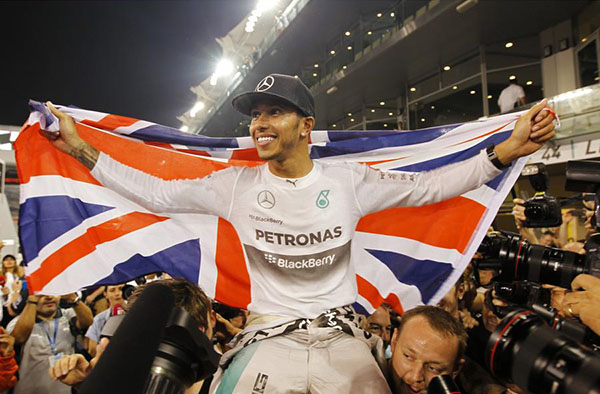 Mercedes Formula One driver Lewis Hamilton of Britain celebrates with his team after winning the Abu Dhabi F1 Grand Prix at the Yas Marina circuit in Abu Dhabi in this November 23, 2014 file photo. [Photo/Agencies]
JEREZ, Spain - Mercedes is confident that Formula One champion Lewis Hamilton will sign a new contract soon, with his current deal expiring at the end of the year.
The 30-year-old British driver clinched his second F1 title last year in dramatic style, beating Mercedes teammate Nico Rosberg at the final double-points race in Abu Dhabi.
Although talks have only just started on a new deal, the head of Mercedes-Benz Motorsport Toto Wolff expects negotiations to go smoothly.
"We are having discussions, very positive ones, which will come to a positive end soon," Wolff said Monday. "I have no doubt about that. There are no glitches at all."
Wolff played down the fact negotiations started somewhat later than was anticipated, given that they were initially set to take place immediately after the Abu Dhabi GP in late November.
"We simply (didn't start) the discussion over the winter because everybody needed a break to refocus and recharge the batteries," Wolff said. "We met each other after the break one week ago and had a good discussion. There is no hurry. It's only January and his contract runs for another year."
Even if Hamilton wanted to leave, which clearly does not seem to be the case, there would be limited options available _ given that Ferrari recently signed four-time champion Sebastian Vettel to replace two-time champ Fernando Alonso and that Alonso went to McLaren, Hamilton's former team.
"We want him to stay and he wants to stay, so there are no risks in taking the situation calmly," Wolff said. "It's still about something that's happening in 12 months. No stress."
Hamilton was driving Monday on the second day of pre-season testing in Jerez, in southern Spain. On Sunday, Rosberg clocked a massive 157 laps to suggest that Mercedes is going to carry on where it left off last season _ when it won the constructors' championship by nearly 300 points.
"Nico completed an amazing 157 laps, flawless," Wolff said. "The times have no significance, but the distance does."
The season-opening Australian GP is on March 15 in Melbourne.