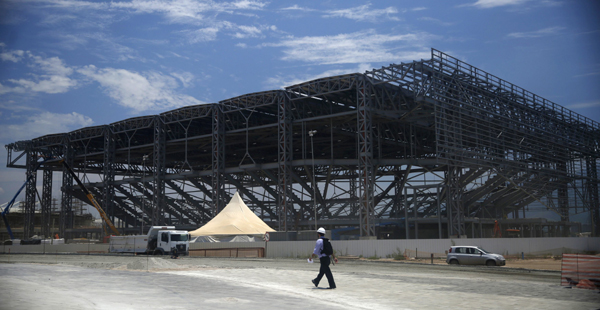 A visitor walks in front of the construction site of the Rio 2016 Olympic Park during a media briefing in Rio de Janeiro December 19, 2014. [Photo/Agencies]
RIO DE JANEIRO - The International Olympic Committee's vice-president, John Coates, triggered controversy in April when he described preparations for the Rio 2016 Games as the "worst" he had seen.
If his comments were designed to jolt local organizers into action, the plan seems to have worked.
A host of competition sites are beginning to take shape ahead of next year's official test events.
Among them is the Barra Olympic Park, which will boast seven new venues in addition to the existing Rio Olympic Arena and Maria Lenk Aquatics Center.
The Carioca 1, 2 and 3 arenas are in the final stage of mounting pre-moulded concrete structures and roof installations. The venues will host basketball, judo, Greco-Roman wrestling, freestyle wrestling, fencing, taekwondo, wheelchair rugby and boccia
Meanwhile, grandstand structures at the Olympic Tennis Center's 10,000-seat center court are almost finished. Construction is also underway at the 5,000-seat Court 1 and 3,000-seat Court 2. The venue will host tennis and five-a-side football.
VELODROME, GOLF COURSE ON TRACK
The city's mayor Eduardo Paes has admitted that work on the Olympic Velodrome is three weeks behind schedule. But he insists it will be ready on time. Pre-moulded concrete structures are currently being installed while foundation works are in their final stages.
Swifter progress has been made at the Future Arena, which will host handball and goalball. Core pillars are already in place while the installation of roof beams and latticework has also been completed.
The 18,000-seat aquatics stadium is currently being fitted with a concrete floor and metal support structures for tribunes. It will host swimming and water polo competitions.
Major strides have been made towards the development of the Olympic golf course in the second half of 2014.
With a legal dispute seemingly resolved, work on the project has gained momentum. A topography study of the course has been concluded, as has the dredging of the lakes. Grass was planted in May and the clubhouse foundations are now being built.
In July, work began on the Deodoro Olympic Park, which will host 11 Olympic and four Paralympic events. About 60% of the venues are ready due to existing structures built for the 2007 Pan American Games.
Foundation work is underway at the Youth Arena, which will host women's basketball and the modern pentathlon fencing section. It will comprise 2,000 permanent and 3,000 temporary seats.
Earthworks are ongoing at the 7,500-seat BMX center while an expansion of the Olympic hockey center is also underway.
2015 TEST EVENTS
Twenty-one official Olympic test events are scheduled to be held next year.
The first will be volleyball at the Maracanazinho, on July 15.
It will be followed by seven events in August, two in September, two in October, seven in November and two in December.
An additional 23 test events are earmarked to be held from January to May 2016.
Rio 2016 organizers staged the first official test - sailing - at the Gloria Marina in August.