Bromance blooms at Theatre of Dreams
Where: Old Trafford Stadium, Manchester
Who: Jose Mourinho and Louis van Gaal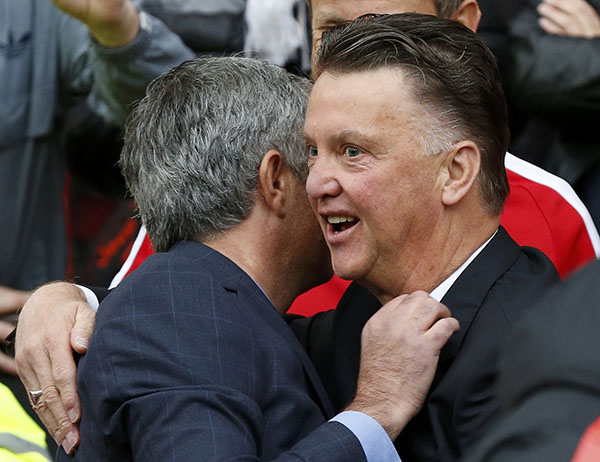 Manchester United's manager Louis van Gaal (R) greets Chelsea's manager Jose Mourinho before their English Premier League soccer match against Chelsea at Old Trafford in Manchester, northern England October 26, 2014. [Photo/Agencies]
Jose Mourinho has never been a man to keep himself to himself.
The Chelsea boss turned a reunion with former mentor Louis van Gaal into such a public display of affection, through emotional hugs and tender face-patting that for a moment people could have been forgiven for forgetting the tension such a classic match up often creates.
The pair's get-together made one for one of the most read sports stories the next day on Netease, a popular news portal in China, attracting 1,012,873 clicks.
Mourinho worked under van Gaal, newly installed this season to help a declining Manchester United rebound, when the Dutchman managed Spanish La Liga giant Barcelona from 1997 to 2000.
Leading through veteran Ivory Coast striker Didier Drogba's header until Dutchman Robin van Persie's late equalizer, Chelsea took a point home and remained atop the Premier League standings.
The 1-1 draw, despite generating differing reactions from the two camps – the apprentice left upset while the mentor was happiest – was probably a just ending for such a reunion.