Jack Ma's sports vibe
Where: Staples Center, Los Angeles
Who: Jack Ma
The Lakers' season opener sparkled again. With superstars scuffling on court, a billionaire spotted off court, ex-teammates-turned-opponents, no wonder the match became the talk of the town.
Alibaba chairman Jack Ma, recently ranked China's richest man by Forbes, showed up at Staples Center to watch the Lakers-Rockets match.
Ma is no stranger to the sports scene, having agreed in June to buy half of Guangzhou Evergrande, one of the most watched Chinese soccer clubs after it became the first Chinese side to win the AFC Champions League last year under World Cup-winning coach Marcello Lippi.
A day prior to the match, Ma revealed at the Wall Street Journal WSJD live event what's behind the Evergrande acquisition. The deal was made after the club's co-owner, property billionaire Xu Jiaxin got him drunk.
With Ma's public confession about what a few shots could lead to, his appearance on the Lakers' courtside were followed by light-hearted discussions on Twitter about whether Ma is ready for another buying spree.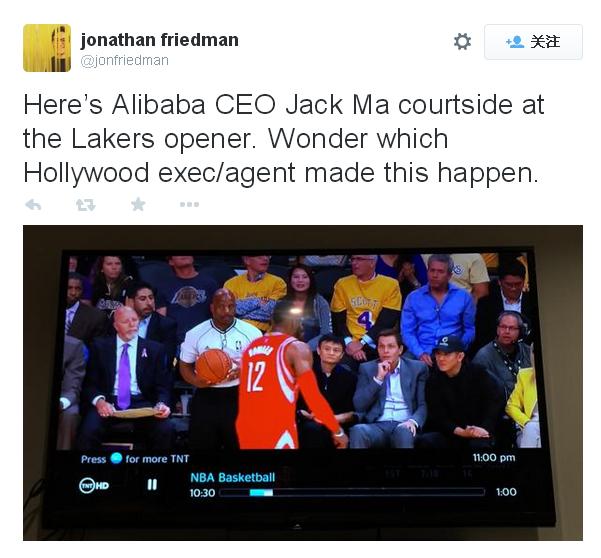 Jonathan Friedman posted a picture showing Ma watching the game and commented: "Wonder which Hollywood exec/agent made this happen."
Another Twitter user Linyi joked about Ma's drunk buying: "Did Jack Ma enjoy the game? A binge in California could possibly get him to buy into the Lakers".
Alibaba's high-profile IPO on the New York Stock Exchange in September triggered a publicity blitz and made its name known to more Americans. Talks have never ceased since then over whether the Chinese e-commerce giant will expand into the US market through mergers and acquisitions.