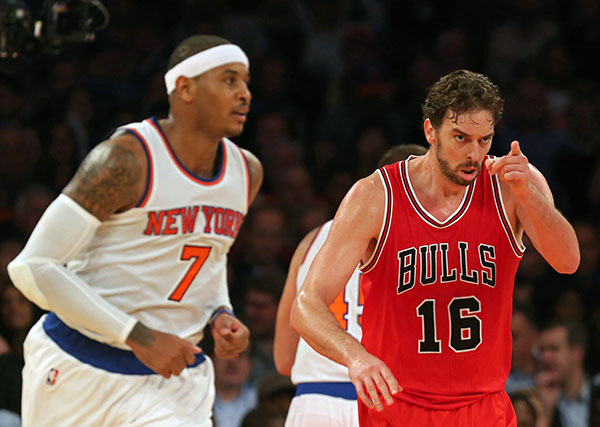 Chicago Bulls forward Pau Gasol (16) reacts after scoring a basket next to New York Knicks forward Carmelo Anthony (7) during the third quarter at Madison Square Garden in New York, Oct 29, 2014. [Photo/Agencies/Adam Hunger-USA TODAY Sports]
NEW YORK - Pau Gasol scored 21 points and had 11 rebounds in his Chicago debut to help the Bulls spoil Derek Fisher's first game as an NBA coach by beating the New York Knicks 104-80 on Wednesday.
Reserve Taj Gibson finished with 22 points to lead the Bulls and Derrick Rose scored 13 points after missing most of the last two seasons. Rose, the former Most Valuable Player, took only seven shots and had five assists in 21 minutes in a game Chicago led by as much as 35.
Rose missed the 2012-13 season after tearing his left ACL in the 2012 playoffs. He returned last season and hit the go-ahead shot to beat the Knicks on Halloween in Chicago's home opener, but was lost again for the season when he tore cartilage in the other knee in November.
Carmelo Anthony had 14 points for the Knicks, who won't have it any easier in the second half of their season-opening, back-to-back. They visit the Cavaliers, the other Eastern Conference favorite, on Thursday in the first game since LeBron James returned to Cleveland.