Li Na answers questions from reporters at a press conference [Photo taken from video grab]
Q: Why did you decide to retire?
A: In March, my knee injury turned rather serious. I underwent surgery in July, my fourth one, but the knee didn't improve much. My age was another reason. Finally, after discussing with my team and family, I made my decision.
Q: Do you plan to set up your own tennis school? Will you invite Carlos to join the school?
A: I have contacted related departments but the exact date has not yet been confirmed.
Q: Will you return to family first or work on new projects?
A: As a professional tennis player, I seldom got time for my family, so I plan to spend more time with them.
Q: When you were 16, you said your dream was to become world's top 10 tennis player. Now you have achieved your dream, do you have some words for young people?
A: Everyone has their dream. I will just move forward on my own direction.
Q: What's your next goal?
A: To help children play tennis and grow up happily.
Q: Who is your successor?
A: I have always had faith in the development of tennis in China. China has already hosted more than 10 WTA events and young players now have more opportunities to play with world-class players. Different players have different personalities and different paths. I am pretty sure that some one will turn out to be better than me.
Q: What do you think of WTA system? When will China have second Li Na?
A: I don't like the word "flying solo." What I said in my retirement letter is my real thought formed during the past years. I hope all of you keep paying attention to China's tennis and the next player will do much better than I did.
Q: We are so proud of you. People from Wuhan, your hometown, really hope to see you play tennis there. What do you want to say after announcing your retirement?
A:No matter what I say, there will always be opposition. I am very glad that so many world-class players take part in the Wuhan Open. I will go back to Wuhan tonight and treat my friends at WTA.
Q: Which period of your tennis career did you enjoy most? Will you return to the tennis court some day?
A: The past two years have been the most enjoyable for me. It took me 15 years to love the game since I began playing tennis. I finally started to understand what tennis meant and stopped being so hard on myself in the past two years.
Q: Will you play doubles with Jelena Jankovic?
A: The probability is slim.
Q: Do you plan to be a tennis coach?
A: I probably will not be a professional coach. My focus is to create tennis awareness among children and let them love the game.
Q: What about the contracts with sponsors?
A: All my sponsors would like to keep cooperating with me.
Q: What's the difference between development of tennis in China and in Europe?
A: It's beyond my scope to answer. What I can do is to establish my own tennis school and start from the basics. The wider the foundation of the pyramid, the higher its tip will be.
Q: Fans in Singapore wanted to see you at the year-end tournament, but now they won't have the chance. What do you want to say to the fans?
A: I didn't expect to retire so soon after the Australian Open. Still, I will go to Singapore to meet with my fans there.
Q: Where do you plan to live permanently? Are you going to have children?
A: Where I will live for good depends on where my future tennis school is located. But it's for sure that it will be in China. Children are a part of life, and I will surely have a baby.
Q: What do you want to say to your fans? Are you going to write a memoir?
A: I might write a book, but it will be only about tennis, not about life. I want to protect my family. I will have more to talk to my fans on Sept 30 when there will be a retirement ceremony.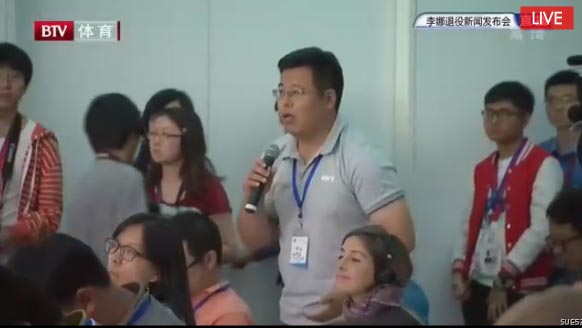 A reporter asks a question [Photo taken from video grab] 
Li Na, a two-time Grand Slam champion from China who took tennis in Asia to a new level, officially announced her retirement at a press conference in Beijing on Sunday.
The press conference was held at the China Open central diamond court at 1 pm.
Li, China's first and only Grand Slam winner, said she is not expected to completely detach from tennis. Instead, she plans to open her own tennis school in the future.
"I will have more to talk to my fans on Sept 30 when there will be a retirement ceremony," she said.
The 32-year-old Li posted a statement on social media sites Friday, saying that her retirement is due to recurring knee injuries, ending a week of intense speculation that she would announce her retirement ahead of the new WTA event at Wuhan, her home town.
Li won the 2011 French Open, becoming the first player from China to win a Grand Slam singles title, and clinched the Australian Open title in January in her third trip to the final at Melbourne Park to reach a career-high No.2 ranking.
She hasn't played since a third-round defeat at Wimbledon, withdrawing from the US Open citing a knee injury.
"Most people in the tennis world know that my career has been marked by my troubled right knee," Li said in the open letter she posted online.
"After four knee surgeries and hundreds of shots injected into my knee weekly to alleviate swelling and pain, my body is begging me to stop the pounding."