FIFA president to declare candidacy for re-election to 'finish mission'
Sepp Blatter will run for a fifth, four-year term as FIFA president.
Buoyed by a successful World Cup in Brazil and UEFA president Michel Platini opting not to stand in next year's election, the 78-year-old Blatter believes he has the backing to win again.
"I will make an official declaration definitely when we have the executive committee (meeting)," Blatter said in a pre-recorded interview shown on Monday at the SoccerEx conference. "I will inform the executive committee. It's a question of respect also to say then to the football family, 'Yes I will be ready. I will be a candidate'."
In response to FIFA's worst corruption scandals, Blatter had pledged before his re-election in 2011 that his current term would be his last. But the Swiss official, who took over as FIFA president in 1998, has been edging toward another run ever since, with no major rival emerging to challenge him.
Despite ongoing corruption scandals engulfing FIFA and opposition within UEFA, Blatter appears to have retained the support of most national federations. Victory in the May election would extend Blatter's mandate to a 21st year in 2019 when he would be 83.
"A mission is never finished, and my mission is not finished," said Blatter, who has previously stopped short of confirming his candidacy. "I got (from) the last congress in Sao Paulo not only the impression but the support of the majority, a huge majority of national associations asking, 'Please go on, be our president also in future'."
Any potential challengers must have worked in soccer for at least two of the past five years and have until late January to gather the support of at least five national associations.
The secret ballot is scheduled for May 29 in Zurich, and former FIFA international relations director Jerome Champagne is the only other person to say he will stand.
FIFA does not have term limits, but FIFA vice-president Prince Ali bin Al-Hussein of Jordan is for them.
"It's always good to have new ideas, new opinions and new blood, " Ali said on Monday at SoccerEx.
"I believe in term limits. You serve the time you have and that's that. I think people would be much happier knowing, even as people to aspire to a position, when they end."
Blatter has seemed more willing in recent years to heed calls for change, introducing goal-line technology and strengthening racism sanctions.
But FIFA still struggles with corruption scandals discrediting many former executive committee members. Blatter, however, has emerged largely unscathed - despite often being booed when he faces fans at major matches.
"I just ask for a little bit more respect and fair play and perhaps also the truth, although this is not so easy because it is not such good information, " Blatter said.
"If you ask me how I deal with that, at the beginning it was very heavy and I was suffering.
"But now my situation has been cleared and cleaned by all possible means outside of FIFA, inside of FIFA. So therefore I am confident and I am going forward as an optimist."
FIFA faces a turbulent future as it deals with the fallout from awarding the 2018 World Cup to Russia and the 2022 tournament to Qatar. FIFA last week received three reports from ethics investigator Michael Garcia and his team after a year-long probe of alleged corruption in the bidding contests.
If the Middle East's first World Cup is not taken from Qatar, FIFA must determine how the event can be moved from the summer heat. Blatter canceled a planned visit to SoccerEx in Manchester to stay in Zurich, where soccer leaders were meeting on Monday to discuss the potential disruption to the international calendar caused by starting the 2022 World Cup in January or November.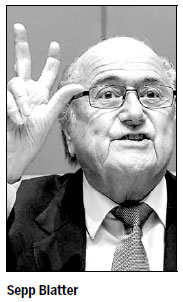 (China Daily 09/10/2014 page23)