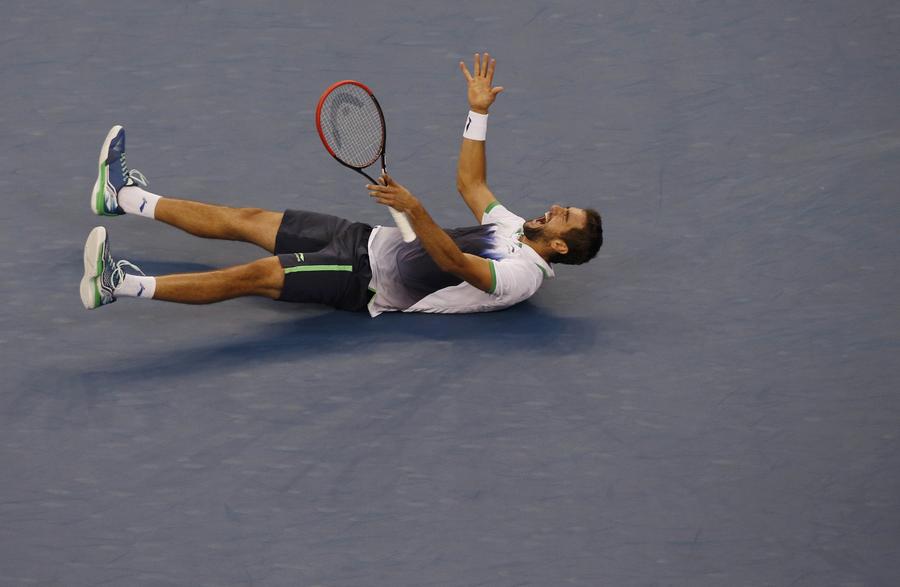 Marin Cilic of Croatia celebrates after defeating Kei Nishikori of Japan in their men's singles final match at the 2014 US Open tennis tournament in New York, Sept 8, 2014. [Photo/Agencies]
NEW YORK - Unable to play in the
US Open
a year ago because of a
doping
suspension, Marin Cilic is now the tournament's champion.
Croatia's Cilic won his first Grand Slam title by beating Japan's Kei Nishikori 6-3, 6-3, 6-3 on Monday at Flushing Meadows, using 17 aces - including four in one game - and the same powerful groundstrokes that helped him eliminate Roger Federer in the semifinals.
"This is (from) all the hard work in these last several years - and especially this last year," Cilic said during the on-court ceremony, when he kissed his silver trophy and collected a check for $3 million.
The 14th-seeded Cilic prevented the 10th-seeded Nishikori from becoming the first man from Asia to win a major singles championship.
"Sorry I couldn't get a trophy today," Nishikori said, "but for sure, next time."
There hadn't been a matchup between players making their Grand Slam final debuts at the US Open since 1997. Lopsided and lasting less than two hours, this hardly qualified as a classic.
"Both of us were pretty nervous in the first set, especially," Cilic acknowledged. "When we got ourselves going, it was a bit better."