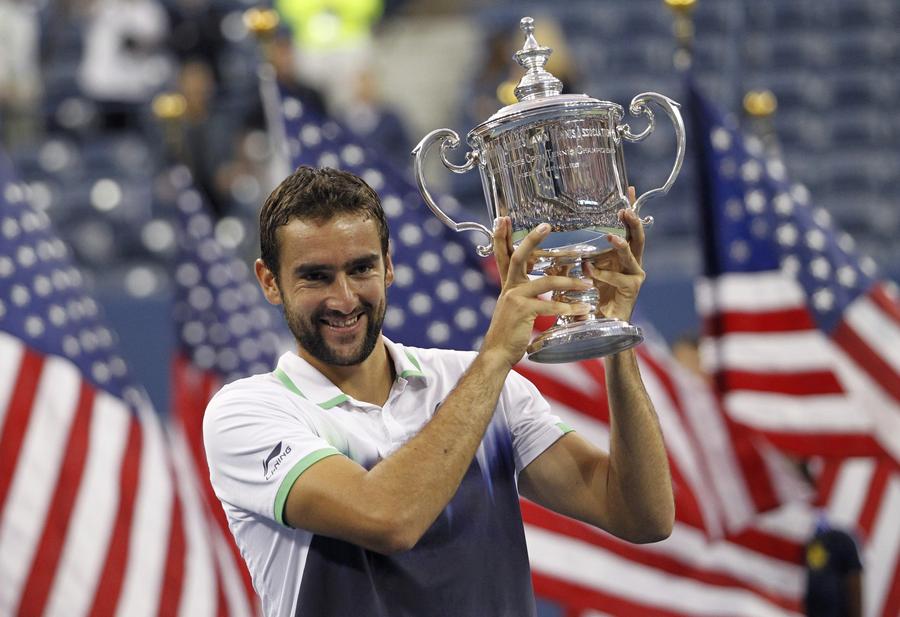 Marin Cilic of Croatia poses with his trophy after defeating Kei Nishikori of Japan in their men's singles final match at the 2014 US Open tennis tournament in New York, Sept 8, 2014. [Photo/Agencies]
The Arthur Ashe Stadium artificial lights were on and the stands were mostly empty when the players walked out to the court at 5 pm - which was 6 am in Japan, but did not prevent folks there from gathering to watch the popular Nishikori on TV.
One indication of how far these two men have come: Their two previous US Open meetings were in the second round in 2010, won by Nishikori, and the third round in 2012, won by Cilic.
This time, there was never really any intrigue.
Cilic won 19 of the last 20 points he served in the opening set, helped by three aces at up to 134 mph (216 kph). The biggest problem for Nishikori, really, was there were not many extended groundstroke exchanges - and even when there were, he tended to lose them.
He was off, whether because of the wind, the accumulated fatigue from a pair of four-hour-plus victories over No 3 Wawrinka and No 5 Milos Raonic, or perhaps knowing what was at stake for him, his country and his continent. Cilic wound up with twice as many winners, 38-19.
In the final set, Nishikori finally broke for the only time, but that wasn't enough. Still trailing 4-2, he had three other break points, but one was erased by an ace and on the others, Nishikori slapped second-serve returns into the net - an escape Cilic would later call "lucky."
But good fortune is not all Cilic credited for his career-defining triumph.
"For all the other players working hard, this is a big sign, a big hope," Cilic said, "that if you're working hard, things are going to pay off."