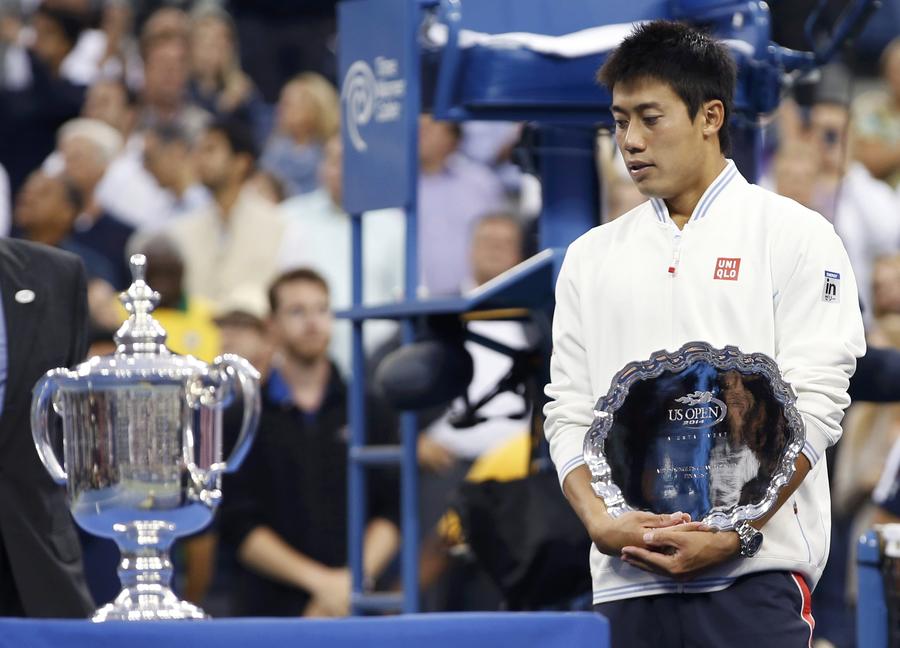 Kei Nishikori of Japan holds his runner up trophy as he looks at the winner's trophy after being defeated in the men's singles final match by Marin Cilic of Croatia at the 2014 US Open tennis tournament in New York, Sept 8, 2014. [Photo/Agencies]
Nishikori stunned No 1 Novak Djokovic in the semifinals, and this was the first Grand Slam final since the 2005 Australian Open without Djokovic, Federer or Rafael Nadal, who won the US Open in 2013 but is sidelined now by a wrist injury. That trio had won 34 of the past 38 major titles, but this was the second of this season that eluded them.
Some, including Cilic, had seen Stan Wawrinka's victory at the Australian Open in January as an indication that the next tier was about to get a crack at the hardware.
Twelve months ago, Cilic missed the US Open while serving a four-month ban after testing positive for a stimulant at a tournament in Germany in May 2013. The International Tennis Federation initially sought a two-year punishment, but Cilic wound up with a shortened suspension on appeal. He said he ingested the substance unintentionally via a glucose tablet bought at a pharmacy and calls the process that led to his penalty unfair.
Cilic, whose only previous trip as far as the semifinals at a major came at the 2010 Australian Open, used the forced break from competition to improve his game. And that work was on full display the past two weeks - particularly Monday, under thick gray clouds and in a strong breeze.
The 6-foot-6 (1.98-meter) Cilic, who is 25, and the 5-10 (1.78-meter) Nishikori, 24, each is coached by a guy with a Grand Slam title: 2001 Wimbledon champion Goran Ivanisevic, the last Croatian man to win a major, works with Cilic; 1989 French Open champion Michael Chang works with Nishikori.
"My team has brought something special to me, especially Goran," Cilic said. "The most important thing that he brought to me was joy in tennis, and always having fun. And I think I enjoyed my best tennis ever here and played the best ever in my life."