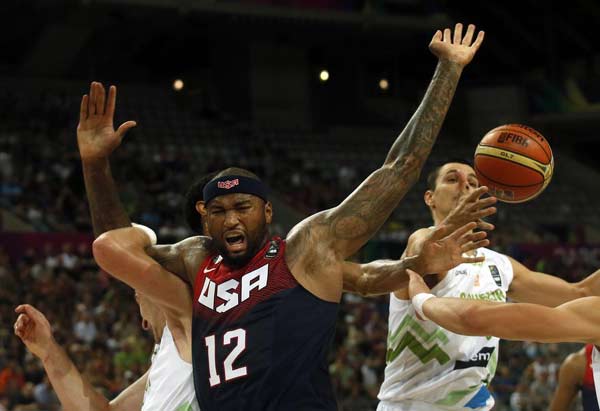 DeMarcus Cousins of the US (C) challenges for a rebound with Slovenia's players during their Basketball World Cup quarterfinal game in Barcelona, Sept 9, 2014. [Photo/Agencies]
The Americans' outside scorers also struggled early as James Harden and Stephen Curry combined to miss all 12 shots they took in the first half.
No matter. The US was still ahead on the strength of its offensive rebounding and its defense.
The US fueled its eventual rout with a 53-38 advantage on the boards, including a 23-12 edge on the offensive glass. It also scored 40 points off turnovers to 10 for Slovenia.
"Under the basket we lost the battle from the very first second," Slovenia coach Jure Zdoc said.
Kenneth Faried set the tone on the boards as it took the US less than 90 seconds to pull in its first five rebounds.
The Denver Nuggets forward finished with 14 points and 10 rebounds. Fellow big man Anthony Davis had 13 points and 11 boards.
Harden exploded for 14 points as the second half turned into a series of breakaway dunks for the Americans that delighted the crowd, except the large swath of Slovenian fans in their chartreuse shirts.
"We just stayed with it and the flood gates opened in the second half," US coach Mike Krzyzewski said.
Goran Dragic of the Phoenix Suns scored 13 points for Slovenia. Domen Lorbeck added 12 while Goran's brother, Zoran, had 11.
On Wednesday, Spain plays France while Brazil faces Serbia in the other quarterfinals on the Madrid side of the bracket.