New coach Louis van Gaal has welcomed the challenge of trying to emulate the great Alex Ferguson at Manchester United and is confident his record of managing big clubs will stand him in good stead.
Ferguson won 38 trophies in 26 success-laden seasons at Old Trafford, but the task of following in his footsteps proved too much for his immediate successor David Moyes.
Moyes was fired in less than a season after breaking a host of unwanted records as United finished seventh in the Premier League campaign that ended in May.
"I had to follow Bobby Robson at Barcelona and that year he won three titles," van Gaal said on Monday during the club's preseason tour of the US.
"I have been at Ajax - the biggest club in the Netherlands. I went to Barcelona - the biggest club in Spain. And then I went to Bayern Munich, No 1 in Germany.
"So when Manchester United called, I thought I had to say 'yes'."
Van Gaal's winning mentality and gruff style has brought comparisons with Ferguson.
Ferdinand: I was out
"I highly respect Alex because there is not another trainer or manager who has won so many titles," said the 62-year-old Dutchman who led his country to the semifinals of the World Cup in Brazil this month.
"I have won a lot of titles, but he has won so many with one club and that is fantastic. When you compare Alex with me, I am very proud."
Van Gaal said he would take his time before making up his mind on possible signings.
"I don't buy players for the sake of it," he said. "I buy players to improve my selection.
"First I must see what I need in all the positions from the system we shall play and, at this moment, I don't know for sure."
Van Gaal's hiring led to the club telling Rio Ferdinand it did not want him anymore, the 35-year-old defender said on Monday.
The centerback has signed a one-year contract with the promoted Queens Park Rangers after 12 trophy-laden years at Old Trafford.
"When Ryan Giggs (temporarily) took over the job at United ... he made it clear to me that I'd have been a part of his plans," Ferdinand said after he was unveiled at Loftus Road.
"Things in football change quickly. A new manager came in and things went a different way.
"I made it clear at the time - Manchester United had to tell me they didn't want me for me to leave the club, and that was always the way it was going to be.
"That's what happened at the end of the season. The club said thank you and goodbye. That happens in football. The club's bigger than any player and I'm happy to be here now."
Ferdinand said he was looking forward to a new challenge with QPR and relishing a fresh start under Harry Redknapp, his first manager at West Ham United.
"I had various offers from different places in the world. But when Harry made the call, it was easy. I started my career under him at West Ham so this is a fairy-tale finish.
"I don't think I've got anything to prove to anyone. I love playing in the Premier League and my competitive edge was an overriding factor in staying in this country and playing here."
Redknapp said of the veteran defender: "He's a class act on and off the field. On the training ground he'll be a great role model for the young players, the way he trains and the way he conducts himself. He'll be great for the club."
Former England captain Ferdinand was clear about the Rangers' objectives in the Premier League after boun-cing back up on their first attempt.
"We need to get points on the board as quickly as possible and hopefully after a successful season here, we'll be staying in the Premier League."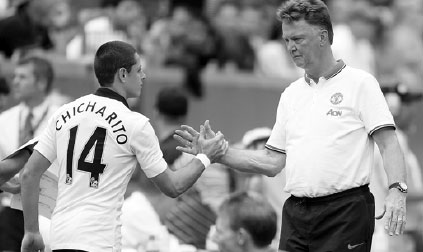 Louis van Gaal welcomes forward Javier Chicharito Hernandez onto the pitch in the second half of his side's 3-2 win over AS Roma at Sports Authority Field in Denver on Saturday. Ron Chenoy / USA Today Sports
(China Daily 07/30/2014 page23)