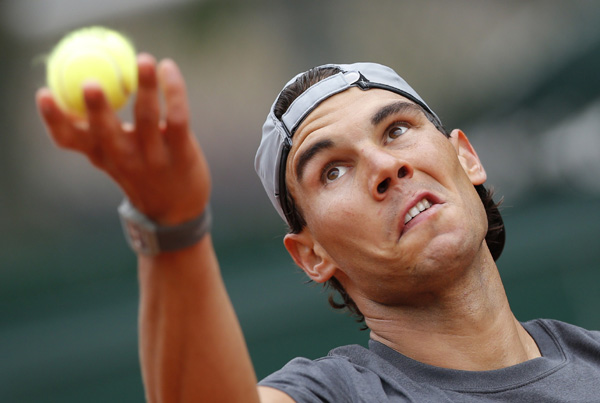 Rafael Nadal of Spain practises during a training session for the French Open tennis tournament at the Roland Garros stadium in Paris May 24, 2014. [Photo/Agencies]
Spanish superstar still the man to beat on Paris clay
Say it quietly, but some flaws are appearing in the suit of armor Rafael Nadal usually wears on a claycourt as the Spaniard sets his sights on a ninth French Open title.
By his high standards the 28-year-old Spaniard has suffered a mediocre season on Europe's red dust courts so far and one or two players, chiefly Novak Djokovic, will arrive in Paris with genuine title hopes.
World No 1 Nadal has lost three matches on his beloved clay in the buildup to Roland Garros for the first time in a decade, while others he normally sweeps aside on the surface have pushed him mighty close.
Fellow Spaniard David Ferrer, who Nadal beat to become the first man to win a single Grand Slam eight times last year, surprised him in Monte Carlo, then he lost to compatriot Nicolas Almagro in Barcelona and last weekend he was overwhelmed by Djokovic in the Italian Open final.
Even his 44th career title on clay, achieved in Madrid earlier this month, was not totally convincing as Nadal was out played for a set in the final by Kei Nishikori before the Japanese player retired with back problems.
That said, the alarm bells will not be ringing yet in the Nadal camp ahead of the Open, which begins on Sunday.
Roland Garros remains a fortress for Nadal, where he has suffered only one defeat since winning the title in his debut in 2005.A loss to Sweden's Robin Soderling is the only blemish on his astonishing 59-1 record there.
Beating him over five sets on clay has proved almost impossible and once he gets into his stride on the relative fast and bouncy claycourts, he appears unstoppable.
Physical punishment
Djokovic got to the brink of victory last year in a spellbinding five-set semifinal lasting 4 1/2 hours after which Nadal explained he "enjoyed suffering" the kind of physical punishment dished out by the Serb.
The scars build up over the years, however, and Nadal now looks more vulnerable to the kind of attacking onslaught the likes of Djokovic, Australian Open champion Stanislas Wawrinka, Andy Murray and Nishikori can unleash.
Nadal is still the bookmakers' favorite to prolong his reign in Paris and can be relied upon to raise his level a notch or two over the next two weeks.
"I feel good physically. I'm feeling better and better physically, better than a year ago," said Nadal, who has appeared untroubled by his suspect knees this year.
"This is the most important thing. Mentally I am still excited about what I'm doing. It still makes me happy. I still feel fortunate that I am doing what I'm doing."
Djokovic, who is closing in on Nadal in the ATP rankings, is also fighting fit after a wrist injury scare that forced him to miss the Madrid Masters this month.
The Serb was imperious in Rome, coming back from a set down to dominate Nadal in the final as he beat his great rival for the fourth time in succession.
"Winning a final of a great tournament with Rafa on clay is definitely an ultimate challenge," Djokovic said after his Rome triumph.
"I am very happy with my game and I hope I can carry it to Roland Garros."
Roger Federer, who will arrive in Paris with double the number of children he had 12 months ago after fathering a second set of twins, would dearly love to double his French Open title haul.
The 32-year-old Swiss, who briefly interrupted Nadal's domination in Paris when winning the title in 2009, has produced some stunning form this year, silencing those who had written him off as a fading force.
He beat Djokovic in Dubai and Monte Carlo and Murray in Australia and believes he can better his quarterfinal run last year when he was beaten by French hope Jo-Wilfried Tsonga.
Murray, who has slipped to eighth in the rankings, is hoping for a kind draw but could find himself up against Djokovic or Nadal in the quarter finals.
The Scot, still without a coach after parting with Ivan Lendl, played his best match of the year when losing narrowly to Nadal in the Rome quarters.
Having won the title in Barcelona, Nishikori,24, looks like the best bet among the young guns to make an impact.
Nishikori is starting to consistently live up to his billing as a potential Asian superstar to rival China's Li Na on the women's side.
American Michael Chang, who was the French Open champion as a 17-year-old in 1989, is now working with Nishikori and believes he is close to making a major breakthrough.
Men to watch

Rafael Nadal

Ranked: 1

Age: 27(turns 28 on June 3)

Country: Spain

2014 match record: 34-6

2014 singles titles: 3

Career singles titles: 63

Major titles: 13 - French Open ( '05, 06, '07, '08, '10, '11, '12, '13), Wimbledon ( '08, '10), US Open ( '10, '13), Australian Open ( '09)

Past five French Opens: '13-Won Championship, '12-W, '11-W, '10-W, '09-Lost in 4th Round

Topspin: Career record at French Open is 59-1 with eight titles; only loss came in fourth round in 2009 to Robin Soderling...Trying to become only man with nine trophies from one Grand Slam tournament and first with five in a row at Roland Garros.

Novak Djokovic

Ranked: 2

Age: 27

Country: Serbia

2014 match record: 24-3

2014 singles titles: 3

Career singles titles: 44

Major titles:6 - Australian Open ( '08,'11,'12, '13), Wimbledon ( '11), US Open ( '11)

Past five French Opens: '13-SF, '12-F, '11-SF, '10-QF, '09-3rd Round

Topspin: Semifinalist five of past seven years...Lost to Nadalin 2012 final,2013 semifinals...Needs French Open title to complete career grand slam...Sidelined for part of clay season with right wrist injury but victory over Nadal in Rome final showed Djokovic is ready...Donated and raised more than $1 million for victims of floods that killed at least 45 people and left hundreds of thousands homeless in Serbia, Bosnia and Croatia.

Stan Wawrinka

Ranked: 3

Age: 29

Country: Switzerland

2014 match record: 21-5

2014 singles titles: 3

Career singles titles: 7

Major titles:1 - Australian Open ( '14)

Past five French Opens: '13-QF, '12-4th, '11-4th, '10-4th, '09-3rd

Topspin: Won first Grand Slam title in January, after reaching first major semifinal at US Open in September...6-0 record this year against opponents ranked in the top 10. 

Roger Federer

Ranked: 4

Age: 32

Country: Switzerland

2014 match record: 28-6

2014 singles titles: 1

Career singles titles: 78

Major titles:17 - French Open ( '09), Wimbledon ( '03,'04,'05,'06,'07,'09, '12), US Open ( '04,'05,'06,'07, '08), Australian Open ( '04,'06,'07, '10)

Past five French Opens: '13-QF, '12-SF, '11-F, '10-QF, '09-W

Topspin: Oldest man seeded in top four at French Open since 33-year-old Andre Agassi was No 2 in 2003...Recently became father of twin boys, Lenny and Leo, who join his four-year-old twin daughters.

David Ferrer

Ranked: 5

Age: 32

Country: Spain

2014 match record: 27-10

2014 singles titles: 1

Career singles titles: 21

Major titles: 0 - Best: F, at French Open ( '13)

Past five French Opens: '13-F, '12-SF, '11-4th '10-3rd, '09-3rd

Tomas Berdych

Ranked: 6

Age: 28

Country: Czech Republic

2014 match record: 27-8

2014 singles titles: 1

Career singles titles: 9

Major titles: 0 - Best: F, at Wimbledon ( '10)

Past five French Opens: '13-1st, '12-4th, '11-1st, '10-SF, '09-1st