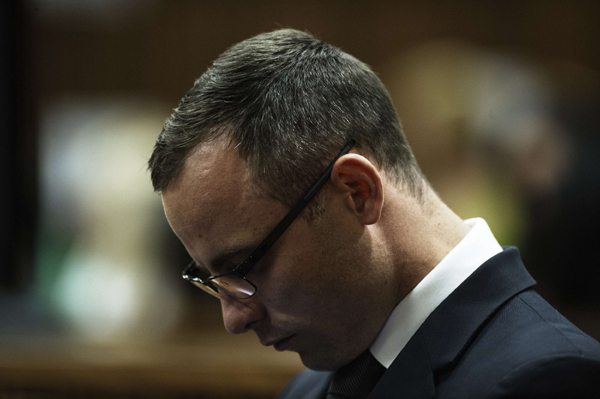 South African Olympic and Paralympic track star Oscar Pistorius sits in the dock, during the trial for the murder of his girlfriend Reeva Steenkamp, in the North Gauteng High Court in Pretoria, May 14, 2014. [Photo/Agencies]
JOHANNESBURG - Murder-accued paralympian Oscar Pistorius should undergo a psychiatric evaluation, the North Gauteng High Court in Pretoria ruled on Wednesday.
The order was issued by Judge Thokozile Masipa who said the decision was to ensure that justice be served although it may cause more delays in Oscar's trial.
The ruling came as Pistorius' trial entered its 32nd day.
"I am satisfied that a case has been laid out... and I shall grant that order," Masipa said.
"A proper inquiry... would ensure that the accused gets a fair trial."
Masipa said the idea was not to punish Pistorius and the possibility of him being an out-patient should be investigated.
Court was adjourned to next Tuesday when the specific order would be handed down.
Pistorius is suspected of suffering anxiety disorder. Based on suggestion by forensic psychiatrist Merryll Vorster, the State applied to refer Pistorious to mental observation.
The paralympian was accused of premeditatedly killing his girl friend Reeva Steenkamp in the early hours of Feb.14, 2013. But Pistorius denied the charge, saying he mistook Steenkamp for an intruder.