Martin Kaymer never lost sight of opportunity, even amid so much evidence of trouble in the closing stretch of The Players Championship on Sunday.
A bad chip led to double bogey. A bad decision cost him a chance at birdie. With his lead suddenly down to one shot, he watched his ball soar against the gray sky toward the scariest island in golf and figured it would be fine.
What followed was a bounce sideways instead of forward, a mystifying spin that nearly sent his ball over the edge and into the drink, a chip with his feet pressed near the wooden frame of the island and a 30-foot par putt that Kaymer chalked up to instinct and luck.
"It was a very strange way to make three," he said.
But it was enough to carry the 29-year-old German to a one-shot victory over Jim Furyk in a final round filled with stress and emotion.
Kaymer got up-and-down with his putter from short of the 18th green for one last par, giving him a 1-under 71 and his first victory in nearly 18months.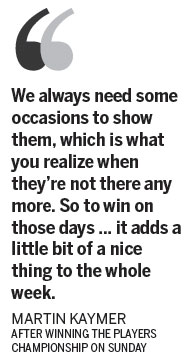 The only time he nearly lost his composure was when talking about his mother, Rina, who died of cancer six years ago. He has a sunflower, her favorite flower, on his golf bag. His brother, Phillip, sent him a text that he described only as a "very emotional".
"To win on Mother's Day... we show our parents way too little," Kaymer said. "We always need some occasions to show them, which is what you realize when they're not there any more. So to win on those days... it adds a little bit of a nice thing to the whole week.
"I think about her every day. I don't need a Mother's Day."
Furyk closed with a 66, having to wait out a 90-minute rain delay to make a three-foot par putt.
It looked like it might be enough to force a playoff, or even win when Kaymer started to struggle. But just as he did last week at Quail Hollow, Furyk could only watch on TV from the locker room and settle for second place.
"I did what I could," Furyk said." I left it all on the course."
Sergio Garcia (70) finished alone in third, though he never got within two shots of the lead at any point.
That wasn't the case with 20-year-old Jordan Spieth, who was tied with Kaymer going into the final round. He made his first bogey of the tournament on the fifth hole, and four more followed. He tied for fourth.
"I'm stinging right now," said Spieth, a runner-up at the Masters.
The typical stress that Saw-grass brings on Sunday was contained to the final hour, and it was almost more than Kaymer could take.
He was sailing along until the lightning flashes and rain forced the rain delay. He had a three-shot lead with five holes left.
He made double bogey from an aggressive play behind a pine tree on the 15th. He nervously used his putter from a collection area on the par-5 16th that turned a simple chance at birdie into a par.
Nothing could top the 17th hole, the most exciting on the Stadium Course. When his chip stopped 30 feet from the hole and bogey looked certain, Kaymer figured he still had one more hole. He couldn't see the line in the approaching darkness, but remembered it from practice.
When it dropped, he walked to the side and slammed his clenched fist in celebration, rare emotion for the German.
Kaymer finished at 13-under 275 and joined an elite group by winning the biggest event on golf's strongest tour. Tiger Woods, Phil Mickelson and Adam Scott are the only other players to win a major, a World Golf Championship and The Players Championship.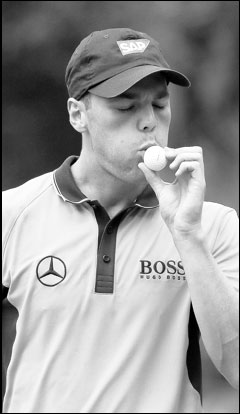 Martin Kaymer of Germany kisses his golf ball after draining a putt on Sunday. AFP
(China Daily 05/13/2014 page23)