Rafael Nadal finally won another clay-court title, although not in a manner that alleviated any concerns about his recent form on his favorite surface.
The top-ranked Spaniard won his fourth Madrid Open on Sunday after Kei Nishikori was forced to withdraw with a hip injury when trailing 2-6, 6-4, 3-0 in the final.
And Nadal, who is coming off two uncharacteristic quarterfinal losses on clay, said his mental strength is still lacking just two weeks ahead of the French Open.
"I was blocked. There were some moments where, I don't know, I couldn't find myself," said Nadal, whose victory guarantees he will stay No 1 in the rankings heading into Roland Garros.
"It wasn't that I didn't want to play or I was missing intensity, I was just mentally blocked."
Earlier, Maria Sharapova bounced back from a poor start to defeat Simona Halep 1-6, 6-2, 6-3 to win the women's title.
Nadal became the first repeat winner in Madrid, but it was only his second clay-court title of the year and third overall in 2014.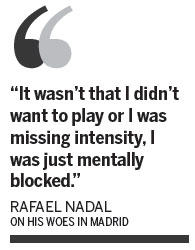 Nishikori's aggressive start allowed him to jump out to a 5-1 lead as his groundstrokes overwhelmed Nada.
"We don't deserve the victory, (Nishikori) deserves it, he played better than us the whole time," Nadal's uncle and coach, Toni Nadal, said in a TV interview. "We had a lot of luck today. We didn't really come back; he was hurt."
Nishikori broke Nadal again to start the second set to leave the crowd, which included Queen Sofia, dumbfounded to find Nadal struggling so badly.
Nishikori first experienced discomfort while leading 4-2 and Nadal took advantage to break back. Nishikori soon needed a medical timeout for treatment on his back and hip, and his energy then looked sapped as he hit a shot long to concede the set.
"It was very sad, especially (since) I was winning, playing almost best tennis in my life," said Nishikori, who will become the first Japanese player in the top-10 when the new rankings are released. "It was very tough mentally for me. But I get a lot of confidence from this tournament.
"You never know what happens today if I'm not hurt. I may have chance to win."
Sharapova, who lost to Serena Williams in last year's final, crumbled in the opening set when she held her serve just once.
But Halep's serve dipped in the second set, and Sharapova started hitting pinpoint ground strokes that kept the fifth-ranked Romanian running. The ninth-ranked Russian converted both her break points in the set to even it
Sharapova then pulled away in the deciding set with an early break to follow up her triumph in Stuttgart with a maiden title in Madrid.
(China Daily 05/13/2014 page23)