Manager looks to future after team's second league crown in three years
Manchester City will not rest on its laurels after finishing on top of the Premier League table for the second time in three years, manager Manuel Pellegrini said.
Sunday's 2-0 victory over West Ham United ensured City finished two points clear of second-place Liverpool and meant there was no repeat of the drama surrounding its first Premier League title in 2012.
Pellegrini, who is from Chile, also became the first non-European manager to win the biggest prize in English soccer.
It is a matter of some pride to the patriotic 60-year-old, although his main focus, starting this week, will be ensuring City does not repeat its form of two years ago and follow a championship-winning campaign with a weak title defense.
"Big teams cannot be satisfied with one title," he said. "It's very important. Celebrate today (Sunday), tomorrow and Tuesday start working for next season, because this club and players deserve more titles.
"Now we have won the title, we are going to have a balanced review of the whole year: the positive things, the negative things, where we can improve our squad. We must continue thinking as a big team.
"It was a beautiful, great season, but we always need to continue winning, continue improving and, of course, we are going to start working as soon as possible to be the strongest team next year."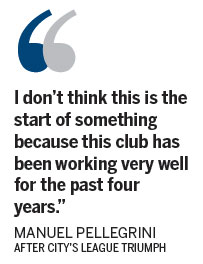 Despite the looming threat of Financial Fair Play sanctions from UEFA, the new champion's financial clout means it is capable of becoming the dominant force in English soccer over the coming seasons.
To that end, Pellegrini and his entire staff and squad were scheduled to fly to Abu Dhabi on Monday for an end-of-season break, during which he will hold meetings with Sheikh Mansour, City's primary owner.
"I don't think this is the start of something because this club has been working very well for the past four years," said Pellegrini.
"Before then, this was a big club with fans, but not a team that could fight for the title. The last four years, this has changed."
Pellegrini has been widely praised for his level-headed approach to management, which is in stark contrast to that of combustible coaches such as his predecessor, Roberto Mancini, or Chelsea's Jose Mourinho.
The fondness his players feel for him was evident at the final whistle when he was grabbed and thrown into the air for celebratory bumps.
Pellegrini said he had had to improve the atmosphere after inheriting a fractured dressing room from Mancini last year.
"It was a moment to celebrate when we finished the game, so any kind of celebration is allowed," he said.
"But from the moment I arrived here, relations between players were not at the best moment and it was important to have calm and convince all of them how to play and how important it was to be very close, all of us, with the manager, players and fans, to try to win a very difficult title."
Pellegrini's side finished the season with 102 Premier League goals, an astonishing 156 in all competitions, and he revealed how important it had been to change the team's philosophy.
"It is easy to score one goal then all go behind the ball and be a team that plays counter-attack. But for me, to win titles just in that way, I would not be happy," he said.
"To win the title the way we did this season with 102 goals, with record goals in other competitions, is the way this team must play because of the quality of players we have."
West Ham manager Sam Allardyce remains the center of speculation concerning his future and he made a low-key case for retaining his position.
"We have had no real threat of relegation for a while and we have done the job after our difficulties in January," he said when asked about his future.
"The lads have withstood the pressure and we are established in the Premier League for the second season on the trot; exactly where I was asked to get us to be."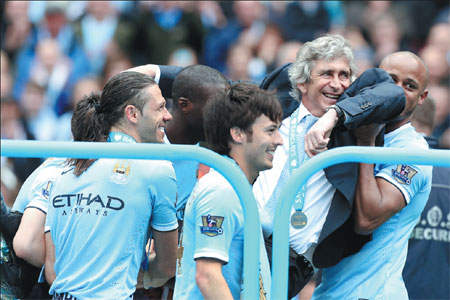 Manchester City manager Manuel Pellegrini is carried by his players after Sunday's 2-0 English Premier League victory over West Ham at Etihad Stadium in Manchester. The win gave City its second Premier League title in three seasons. Jon Super / Associated Press
(China Daily 05/13/2014 page24)