Savvy veteran Shao dreams of leading Beijing to league title
Editor's note: Soccer is the world's No 1 sport, and China has its own aims for the game. President Xi Jinping has spoken about his soccer dream: China reaching the World Cup, China hosting the Cup and, ultimately, China winning the coveted trophy. However, the nation still lags far behind in the soccer world. The 2014 Brazil World Cup is just around the corner and we have selected 11 key figures from around the country to tell us about their soccer dreams. The interviews will be on RTHK Putonghua Channel at 4 pm on Sundays through June 8.
The number of players competing in top European leagues is a fair gauge of a nation's soccer development.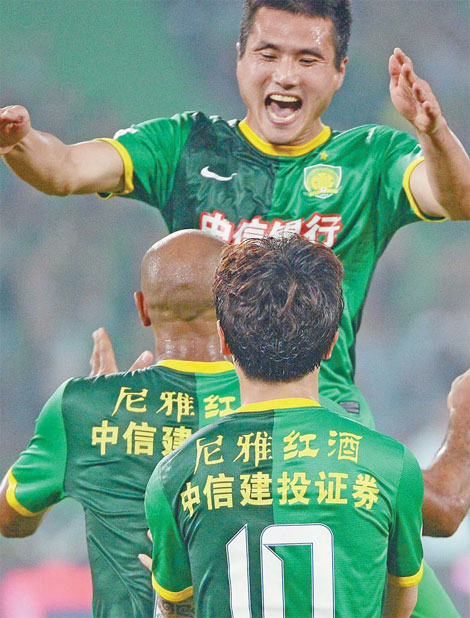 Shao Jiayi of Beijing Guo'an celebrates scoring against Shandong Luneng in a Chinese Super League game last June in Beijing. Guo Yong / Xinhua
Obviously, China is lagging far behind its neighbors, as Japan and South Korea have numerous players plying their trade in the top leagues.
Things seemed a lot better for China about a dozen years ago - after the 2002 Korea-Japan World Cup.
A player who has been through those highs and lows, both here and abroad, is now back in China and fighting for the championship in the Chinese Super League with his home team.

Shao Jiayi is hailed as one of the most successful Chinese players to take his talents abroad. Nine consecutive years in Germany's Bundesliga makes him the longest tenured Chinese player in a major European league. His teammates at Beijing Guo'an have even nicknamed him "the German guy".
In 1999, the then 19-year-old went to Germany for a four-month training stint, but the experience hardly impressed him.
"I even thought I would never go back; even if I got the chance to play in Europe." Shao said.
But things change. He was signed by then first division team 1860 Munich after the 2002 World Cup; a move that was not exactly greeted by the team's fans as he had not even shown his full potential in the Chinese league.
But that all changed when, in front of his former legendary teammate and German free-kick expert Thomas Haessler, Shao struck from a free kick. Soon after, he became a regular in the lineup.
"Maybe it was because I adapted to the new environment faster," Shao said of his success in Europe, where other Chinese floundered.
"Unlike some Chinese players who cannot get used to Western food, I eat every kind of dish. The biggest challenge was learning the language," he said.
After learning to speak German, he was able to move in his teammates' circles. Accordingly, his performances on the field improved. 'China Shao' became his nickname and all was going smoothly until bad luck struck his team.
After the chairman of 1860 Munich was jailed for illegal conduct during the construction of Munich's landmark Allianz Arena in 2004, the team fell into disarray and was ultimately relegated.
To this day, 1860 Munich is still struggling in the second division. But Shao, who was on the squad for four seasons, expressed his abiding affection for the club.
"I spent a long period during the peak of my career there, and I went through the ups and downs - my first goal, attaining starting lineup status, serious injury," had said.
"I still have lots of friends there and I always keep an eye on them."
The Bundesliga covets well-rounded players. Initially, Shao was primarily a defensive player but in his last season at Munich head coach Reiner Maurer moved him forward and gave him more freedom to roam.
Released from his defensive responsibilities, Shao became an influential playmaker. Then, another Bundesliga team, Energie Cottbus, offered him a better contract.
At his new club, everything finally clicked for Shao.
Stellar performances - and a magical goal against Bayer Leverkusen - made him a household name in the small town of eastern Germany. Before his his last game, the team arranged a special farewell ceremony for him.
Recalling those nine years, Shao is full of praise for Germany's soccer culture.

"Soccer is in their blood; living there one naturally accepts soccer as a part of life," he said.
"Everyone talks about soccer in Germany, even if one might not like it. The game, on every weekend, is the grand party of the city - the most important event of the week."
Shao said China can't compare with Europe in terms of soccer culture.
"It's not even close ... no doubt because modern soccer originated in Europe," he said.
"But the culture is budding in Beijing. Beijing fans are the best in China, but too few support their kids in playing the game.
"We have seen a discomforting decline in the soccer population in Beijing and China over the past few years.
"One thing on my wish list is to be a role model for young players as well as kids. I hope they can learn something from me."
His great regret in a sterling career came with the national team. In 2004, Shao, as the key playmaker, led the side to the Asian Cup final. But it was defeated by Japan in Beijing after a controversial hand-ball goal.
"The game was 50-50 and the gap between us was not big," Shao said.
"I think we were much too confident because we were playing at home. Looking back, we drowned ourselves in that optimism."
Now he is enjoying his life in Beijing. Playing for his home team, spending more time with family, surrounded by old friends, Shao is happy and content.
He is pleased his two daughters occasionally come to the stadium to watch his games, "but soccer is not their interest; they seem to love swimming at the moment."
Shao has already realized most of his childhood dreams as a soccer player. He has played in the World Cup and has conquered Europe. There is only one goal remaining on his wish list.
"I want to win a Chinese Super League championship for Beijing; that's my only dream now," he said.
Q&A
In 2002, some said China was lucky to get into the World Cup finals, and so was Shao Jiayi. What do you think?
I think my soccer career has gone well so far, but I didn't feel "lucky" like people said. When I saw my name on the starting list, I wasn't surprised. Probably because I wasn't thinking too much before that, just training like I always did. There was every reason for the Chinese team to make the World Cup finals. Some might say we were lucky as we were not in the same group as Iran. However, I think our form was good enough for us to win - even if we played against Iran.
What are your memories of the 2002 World Cup?
We didn't have much experience and the goals for us to keep going forward and improving were unclear. We thought it was way too good to just even be in the World Cup, let alone getting into the final 16. We were somehow not confident enough before the games and could not recapture the same form we had shown during the qualifiers.
How can China make the World Cup again?
I am jealous of Japan's achievements. But it also gives us hope as we are also Asians. We can see the Japan Football Association never sets targets for any specific events, but they are regular competitors at the World Cup. We should definitely learn from them and I hope in 20 or 30 years time, we can also qualify for the World Cup regularly. Then we can even target the final 16 and the final eight. That can be possible only if we can draft a long-term development plan.
luisliu@chinadailyhk.com
Related story on Zhang Linpeng: Zhang sets some long-term goals
Related story on Li Weifeng: High price of professionalism
Related stories on Fan Zhiyi: The voice of experience
Related story on Hao Haidong: Striking hard against the system