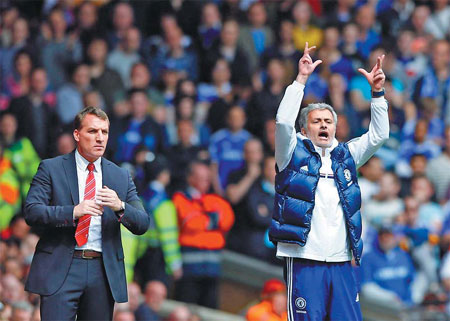 Chelsea manager Jose Mourinho (right) and Liverpool boss Brendan Rodgers cut contrasting figures on the touchline during their English Premier League match at Anfield in Liverpool on Sunday. Chelsea won 2-0. Darren Staples / Reuters
Mourinho shows why he's master of the shutdown
Five days after smothering Atletico Madrid with a defensive blanket in the Champions League, Chelsea "parked two buses in the box" to post a 2-0 win at Anfield, according to Liverpool manager Brendan Rodgers on Sunday.
Manager Jose Mourinho might not be providing the kind of swashbuckling soccer Chelsea fans salivate over, but it's mighty effective - and further evidence that when it comes to pouring water all over the barbecue, he is still the master.
The Portuguese, whose Inter Milan side beat Barcelona and Bayern Munich on the way to winning the 2010 Champions League by putting up barricades and conceding possession, proved again that he is the ultimate pragmatist.
Liverpool has torn teams to shreds at Anfield this season and had won 11 games in a row to stand on the verge of a first title in 24 years - yet its fans were fearful of the visit by Chelsea, which has so often been its nemesis.
Liverpool failed to flow, got shut down in midfield and spent the afternoon running repeatedly into a wall of blue before succumbing to a couple of sucker punches.
A deflated Rodgers could hardly contain his contempt for Chelsea's tactics, suggesting that any team could be set up to spoil and it was much more worthy trying to entertain.
But he is far from the first manager to find himself out-witted by Mourinho, who gleefully ran down the touchline when Willian scored Chelsea's second goal in stoppage time.
When Mourinho arrived at Chelsea in 2004 he called himself the "Special One" and launched the club down a path that led to two Premier League titles with a brand of soccer that was not always pretty but proved devastatingly effective.
When he returned before the start of this season he said he was the "Happy One", even though at times he looked more like the "Miserable One." But he really doesn't care what people think, other than his adoring fans at Stamford Bridge.
Spiky presence
Mourinho has been a spiky presence in the dugout and in his post-match media conferences lately, sarcastically congratulating the referee for his perceived errors in Chelsea's home loss to Sunderland last week which might well end up costing him the title.
His outburst attracted widespread scorn but cleverly deflected attention away from his players' poor showing.
A few days later in Madrid it responded to the siege mentality that Mourinho loves to instil with a superb rearguard action against Atletico, eking out a 0-0 draw that makes it the favorite to advance to the Champions League final.
His mind already scheming the next move, Mourinho then dissed Chelsea's part in the English title race, saying Europe was the team's priority and that he would field his reserves at Liverpool.
Whether Rodgers cares to admit it, Mourinho's apparent indifference to Sunday's Anfield encounter was a subtle piece of destabilization that worked to perfection.
Rodgers described Chelsea as having a "six-man" defence and "parking two buses" in front of its goal.
Mourinho, predictably, saw things differently.
"The best team won," Mourinho said. "The team that deserved to win did so. Simple. That's my opinion.
"The team played brilliantly. Every player was magnificent. There were no mistakes with zonal play, which is more difficult than targeting a man.
"We covered space and men. I think it was a fantastic performance."
He then took a swipe at both Liverpool and Manchester City, which are still likely to finish above Chelsea - already sowing seeds of doubt for the battles ahead next season.
"The champion is only one team so we don't want a trophy for finishing third. But we can point out that we won both matches against the champions," he said.
"We won both matches against Liverpool and both matches against Man City, so it doesn't matter which one is the champion - we won both matches against them."
Chelsea might well end up missing out on the title but in one-on-one tactical combat Mourinho has, in soccer speak, played brilliantly against opposing managers in his past few outings.