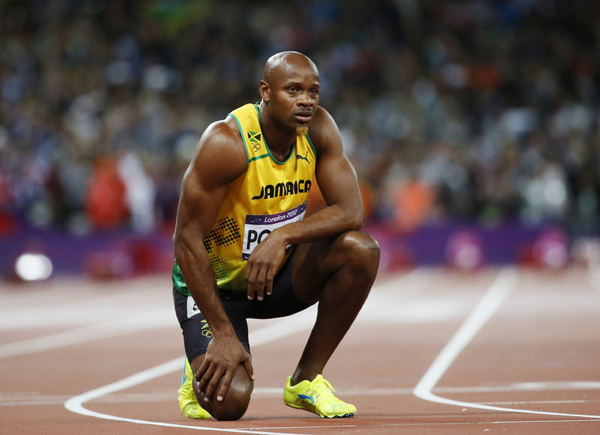 Jamaica's Asafa Powell looks at the scoreboard after running in the men's 100m final during the London 2012 Olympic Games in this file photo taken August 5, 2012. [Photo/Agencies]
KINGSTON, Jamaica - Former world 100m record holder Asafa Powell received an 18-month doping ban on Thursday, two days after his fellow Jamaican sprinter Sherone Simpson got the same punishment.
A disciplinary panel of the Jamaican Anti-Doping Commission announced the decision, mentioning the suspension is backdated from June 21, 2013, when the two sprinters submitted their testing samples.
That means they will be able to come back to games in December this year.
Powell and Simpson were among five Jamaican athletes testing positive for doping in the national championships last June. Investigators then found banned stimulant oxilofrine in their supplements.
Attending hearings this January, the two sprinters passed the buck to their trainer, Chris Xuereb of Canada, from whom they got the supplements.
However, the Canadian insisted that he didn't give them any drugs except major brand vitamins and "both athletes are clearly looking for a scapegoat".
Powell and Simpson, at the same time, admitted they had failed to provide a full list of supplements to anti-doping authorities before the doping test, to which Powell's response was "due to the excitement of the trials, I couldn't remember" the names.
Obviously, Powell's testify did not persuade the three-member Jamaican anti-doping panel. The latter finally made the decision of a 18-month ban with consensus the doping-involved sprinters should pay for their negligence in all the circumstances as elite athletes.
Powell, a multi-time world championship medallist, had lowered the world 100m record to 9.74s. This record was then eclipsed by his fellowman Usain Bolt.
Jamaican sprinter gets 18-month doping ban
Simpson says trainer to blame for positive test