Australian swimming great Ian Thorpe is in "good spirits" in a Sydney hospital as he fights a serious infection and reports that he might lose the use of his arm are "nonsense", his manager said on Wednesday.
The five-time Olympic champion, who retired after the Athens Olympics before making an unsuccessful comeback bid for the 2012 London Games, contracted the infection after undergoing shoulder surgery this year.
"He is fine, he is a battler," James Erskine told Channel 9's Today program.
"He is in good spirits, you know, he has got drips in, he has got antibiotics and all that sort of thing so he is not exactly going to swim in the Commonwealth Games tomorrow."
Erskine said he was not sure how long Thorpe, who attended the wedding of Britain's Prince William in 2011 and might have been expected to catch up with the royal on the upcoming tour of Australia, would remain in hospital.
"As of yesterday he is not in intensive care. He is a sick boy, he is not going to get out and have a cup of coffee and go and meet Prince William," he said of the 31-year-old.
"At the end of the day he is fighting it, he has got an infection and like any of these infections you get in hospitals, they have to take it seriously."
As for Tuesday's reports the infection could leave Thorpe without the use of his left arm, Erskine was dismissive.
"I think that is all poetic licence," he said.
"You could say what is the worst-case scenario, I mean, people have died from these infections. But that is just people making it up, that is just nonsense."
Erskine said on Tuesday he thought Thorpe's swimming career was almost certainly over if only because of the impact of the surgery on his shoulder.
"He has had two major operations on his shoulder ... and he has got plates in there, he looks like the bionic man," he said on Wednesday.
"The first operation didn't work, which took place after a fall at home before he went into rehab.
"After rehab he went back to hospital, had the operation redone. While he was in hospital, he got an infection. They thought they had cleared that infection up.
"He went back to rehab and the infection flared up again so now he is back in hospital."
Australia's most decorated swimmer with 11 world championship golds, Thorpe was admitted to hospital this year to treat depression after he was found disoriented in Sydney.
Police were called when a resident saw Thorpe behaving oddly near a vehicle and Erskine later said he had been taking a mixture of anti-depressants and medication for his shoulder.
Thorpe won three golds in his Olympic debut at the 2000 Sydney Games and clinched another two at Athens four years later, but announced his retirement in 2006 at the age of 24.
He returned to the pool in 2011 in a bid to qualify for the London Games but flopped at national trials the following year.
He later revealed in his 2012 autobiography This is Me that he battled depression, which had prompted suicidal thoughts and alcohol abuse.
Though frustrated by the injury setbacks, Thorpe last year told local media he had not ruled out a bid for the 2016 Games in Rio.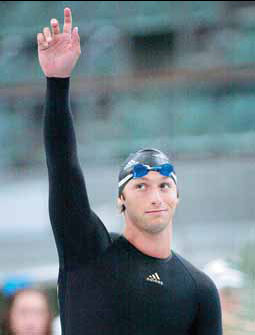 Ian Thorpe waves to spectators before his 200m freestyle semifinal during the Australian Olympic team swimming trials at the Sydney Aquatic Centre in March 2004. Tim Wimborne / Reuters