Look up. Look waaaay up.
In case there was any doubt that Zou Shiming and Rex Tso are the stars of Top Rank's nine-bout Ring of Gold promotion at Macao's Cotai Arena on Saturday night, one glance at the tower outside the Venetian Resort & Casino confirms it.
Banners measuring 30 meters high by 6m wide hang from the massive tower, adorned with portraits of China's two best pint-sized punchers - a fitting tribute to their larger-than-life impact on the sport's resurgence in this country.
Ring of Gold also features International Boxing Federation world lightweight champ Miguel Vasquez of Mexico (33-3, 13 KOs) defending his title against Russian challen-ger Denis Shafikov (33-0, 17 KOs), and 2012 Olympic gold medalists Ryota Murata of Japan and Egor Mekhontsev of Russia in middleweight and light heavyweight prelims.
Zou, China's double Olympic gold medalist (2008, 2012) from Guizhou, is 3-0 as a pro and taking a major step up the ladder by headlining the card in his first eight-round flyweight bout against Thailand's tough Yokthong Kokietgym (14-3, 10 KOs).
In addition to being 13 years younger than the 32-year-old Zou, the hammer-fisted Kokietgym holds a 70-16 advantage in terms of professional rounds. But Zou's trainer, Hall of Famer Freddie Roach, dismisses that disparity.
"It's not a big deal," Roach said on Thursday. "When I compare the Zou Shiming of today with what he was like when he turned pro a year ago, the difference is day and night. Sure, he has only banked 16 pro rounds, but in each of his three fights he has made significant improvements. His progression has been steady ... and based on his preparation for this one, I think Saturday night will be his best yet.
"We know the Thai kid is younger and more experienced; that is why we really stepped up Zou's sparring schedule against bigger guys,.
Meanwhile Tso, who has become phenomenally popular as the face of boxing in Hong Kong, will put his 8-0 record on the line against Japan's Mako Matsuyama (7-7, 3 KOs) in a 10-round featured prelim for the World Boxing Organization's Asian continental junior bantamweight crown.
Coming off a sensational first-round KO of Thailand's Susu Sithjadaeng in November, and with four stoppages in his past five bouts, Tso is now ranked No 12 in the world at 115 pounds. An impressive win over Matsuyama would vault the slick southpaw into the top 10.
"I am very happy to again be fighting in Macao and challenging for the WBO regional championship," said the personable Tso.
"It means a lot to me to fight for all of China, and that so many of my supporters have traveled from Hong Kong to watch it. I know that my opponent has had three months to prepare, so I expect it will be a very tough match - but I am confident of victory."
The undercard will also showcase former world champion and current No 2-ranked contender Akifumi Shimoda of Japan (28-3-2, 12 KOs) in a 12-round WBO international featherweight title bout against fellow ex-champ Marvin Sonsona of the Philippines (17-1-1, 14 KOs), and local favorite Kuok Kun Ng - aka 'The Macao Kid' - looking to improve to 3-0 in a four-round super welterweight match against Indonesian Rocky Alap-Alap (2-9).
The main event between Zou and Kokietgym and the Vazquez-Shafikov co-feature will be televised live on HBO2 starting at 9:00 p.m., with former world lightweight champion and International Boxing Hall of Fame member Ray "Boom-Boom" Mancini providing the color commentary.
murraygreig@chinadaily.com.cn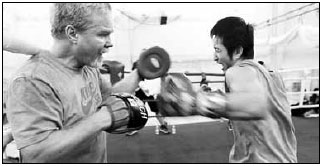 Zou Shiming works out with Hall of Fame trainer Freddie Roach in Macao for his eight-round flyweight bout against Yokthong Kokietgym of Thailand on Saturday. Chris Farina / Top Rank
(China Daily 02/21/2014 page23)