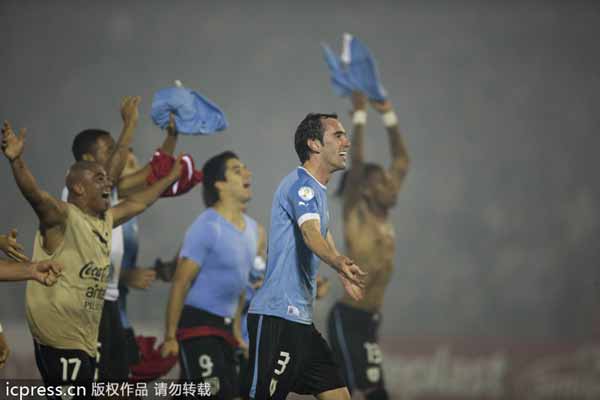 Uruguay's players celebrate at the end of their 2014 World Cup qualifying playoff second leg soccer match against Jordan in Montevideo November 20, 2013. [Photo/icpress.cn]
MONTEVIDEO, Uruguay - Uruguay claimed the 32nd and final place at next year's World Cup in Brazil with a 0-0 draw against Jordan in the second leg of an intercontinental playoff Wednesday. 
Uruguay, which won 5-0 a week ago in Jordan, advanced on a 5-0 aggregate over two legs as Jordan defended compactly throughout Wednesday's match.
Uruguay finished fourth at the 2010 World Cup, the best finish of any South American team. It has also twice won the tournament.
It's the fourth consecutive time Uruguay has gone into an intercontinental playoff to reach the World Cup. It defeated Costa Rica to reach the 2010 World Cup, but lost to Australia in 2005 after defeating the Australians in 2001.
Uruguay, with a population of only 3.3 million, will be one of the eight seeded teams in the December 6 World Cup draw. The seedings are based on FIFA's rankings.
The other seven seeded teams are: Brazil, Spain, Germany, Argentina, Colombia, Belgium and Switzerland.
Statistically, this was the 816th and final match since qualifying for Brazil began when Montserrat played Belize on June 15, 2011, a process that narrowed 203 nations down to 31 to join Brazil, which qualifies automatically has the host nation.
Robin van Persie of the Netherlands, Luis Suarez of Uruguay and Deon McCaulay of Belize shared the lead for goals in 2014 qualifying with 11 each.
Both teams started the match conservatively, but Uruguay had lots of possession in the first half despite being unable to break through as Jordan defended much better than in the first leg.
Jordan hung on in the second half, with Uruguay trying to avoid any injuries.
Uruguay coach Oscar Tabarez started his top 11 at Centenario stadium including forwards Suarez and Edinson Cavani. Crowd favorite Diego Forlan came on in the 60th minute.