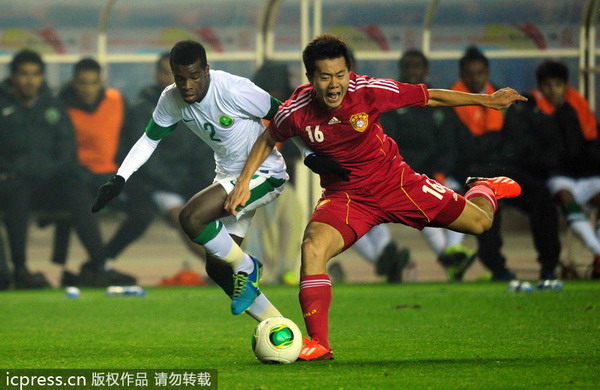 Jiang Ning (16) of China goes after the ball against a Saudi Arabian counterpart during their 2015 Asian Cup qualifier in Xi'an, Northwest China's Shaanxi province, on Nov 19. The match ended in a scoreless draw. With eight points from five previous matches, China ranks second in Group C. It needs an away victory or another draw against Iraq on March 5, 2014, to win a berth for the Asian Cup 2015, which will be held in Australia. [icpress.cn]
XI'AN, China - China failed to clinch their 11th consecutive Asian Cup ticket with a game to spare after a 0-0 home draw with Saudi Arabia at an Asian Cup qualifier on Tuesday.
China now are in the second place in Group C with two points ahead of third placed Iraq. The draw means they need at least another draw to secure the qualification in the last round against Iraq, who beat Indonesia 2-0 on the road tonight.
"I think we can accept this result," said China's captain Zheng Zhi. "We did not have clear chance to score but our defence had a great performance tonight."
Fu Bo, the caretaker manager of China, made five changes in the starting lineup in pursuit of defeating Saudi Arabia for the first time since 1997, keeping attacking midfielder Wu Lei on bench, after he scored the only goal in China's 1-0 win against Indonesia last Friday.
"I changed the starting list becaus Saudi is good at scoring from counter-attacks. The adjustment was effective, but unfortunately we can't covert the opportunities," said Fu, who has led China on an eight-match unbeaten run.
As replacement of Wu Lei, Jiang Ning had a golden opportunity to open the scoring on 17th minute as he got a one-on-one chance after beating the Saudi offside trap from Zhang Xizhe's long pass, but Saudi defender Fallatah made a great tackle to kick the ball out of the line.
There was a controversial moment before the injury time of the second half when sideback Zhang Linpeng was tackled down in Saudi's box, however, South Korean referee Kwon Jong Chul refused to award the penalty to the hosts.
"The referee had made his decision on the pitch, I don't want to say anything about that right now," Zheng Zhi said.