Bulls win first NBA game in South America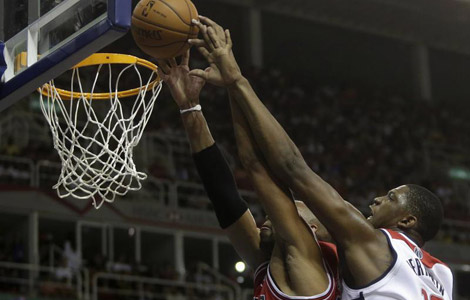 Washington Wizards' Kevin Seraphin (R) challenges Chicago Bulls' Taj Gibson during a NBA Global Games Rio 2013 basketball game in Rio de Janeiro October 12, 2013. [Photo/Agencies] 

RIO DE JANEIRO - The Chicago Bulls withstood a spirited Washington Wizards fightback on Saturday to win the first NBA game in South America 83-81.
The Bulls were without guard Derrick Rose, still recovering from surgery on his left knee, for the pre-season match in front of 13,635 fans at Rio's HSBC Arena.
In his place Taj Gibson stepped up with 18 points while Luol Deng added 14. Washington's top-scorer was Bradley Beal with 16 points.
The Wizards rallied from nine points down at halftime to take a two-point lead with just over five minutes left.
Sparked by Gibson and Rose's replacement Kirk Hinrich, who ended the match with eight points and three assists, the Bulls recovered to wrest back the lead in the closing stages.
"We wanted to see where he was today, but he wasn't as well as we would have liked," Bulls coach Tom Thibodeau said of Rose.
"He still had the soreness. So we anticipated giving him time off. We view our training camp as the entire month. So if he needs a day, or a couple of days we'll do that."
<<!-- iscomment为1标示该文章可以评论 -->