Bittersweet silver brings Liu redemption
Updated: 2011-08-30 17:29
(Agencies)
| | | | | | | | | | | |
| --- | --- | --- | --- | --- | --- | --- | --- | --- | --- | --- |
|   | | Comments() | | Print | | Mail | | Large Medium  Small | 分享按钮 | 0 |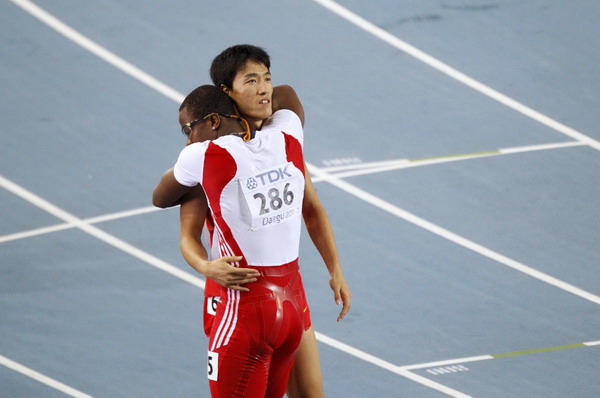 Dayron Robles of Cuba (286) hugs Liu Xiang of China after winning the men's 110 metres hurdles final at the IAAF 2011 World Championships in Daegu Aug 29, 2011. Robles was later stripped of his gold medal pending an inquiry after barging past Liu to win the 110 metres hurdles final at the world championships on Monday. Jason Richardson of the US was installed as world champion with the Chinese handed silver pending the investigation into the race. [Photo/Agencies] 

DAEGU, South Korea - Liu Xiang could be forgiven for feeling aggrieved after being robbed of the high hurdles world title at Daegu but the Chinese was just happy to be back winning medals in major championships.
Three years after traumatising China by limping away from the heats at the Beijing Olympics, the 28-year-old was back at the very top table of international athletics and looking close to his once brilliant best.
But for the bump from the hand of Dayron Robles in Monday's final, Liu was convinced that he would have reclaimed the world title he won as world record holder and Olympic champion in his pre-Beijing pomp in 2007.
Cuban Robles took both Liu's record and Olympic title in 2008 but was denied a first world title on Monday when he was disqualified for obstructing the Chinese and the gold went to American Jason Richardson.    
Liu, who crossed the line third after losing his balance, ended up with a second world championship silver to add to the one he won in 2005 and, declared himself "satisfied" with his lot.
"I'm satisfied with the performance and there is only little regret in the race," he told reporters.
"I have won the gold medals at the world championships and the Olympic Games, and medals of all colours.
"My aim this time was to win a medal, and I achieved it."
Liu seemed genuinely to lack any bitterness towards Robles, who he had informed of the disqualification when he saw it on television when both athletes were in doping control.
The two fastest high hurdlers of all time - Robles's world record of 12.88 seconds is just a hundredth of a second quicker than Liu's best - will be looking forward to renewing their rivalry at the London Olympics next year.
Liu suffered a backlash in China after his Beijing Olympic exit - which was caused by the Achilles injury which has taken three years to put right - and was accused of cowardice and weakness by some of his compatriots.
Perhaps significantly, the official state news agency's report of Monday's race described Liu as having regained his "honour".
Liu remains one of China's top sporting figures alongside the recently retired basketball player Yao Ming and French Open tennis champion Li Na and the race was the subject of feverish comment on Weibo, China's equivalent of Twitter.
Some outrage at the Cuban's obstruction was tempered by his disqualification from the race and most thought justice had been done.
"Since Robles apologised, let them meet in the Olympic Games," wrote Jonny-V.
Only in London next year will Liu be fully able to redeem himself with many of his Olympic-obsessed compatriots.
It is hard to overemphasise the importance in China of his 2004 triumph at the Athens Games, where Liu became the first Asian man to win an Olympic track title and, in his own words, proved that "the yellow man can sprint".
His coach Sun Haipin said Liu was unlikely to race again this season but they would continue to work on the new strategy of taking seven rather than eight steps to the first hurdle.
Liu adopted it only a few months ago but his starts in Daegu were generally poor compared to Robles and powerful Americans like Richardson and David Oliver, leaving him to rely on his surging finish to get back in races.
Another benefit to getting out in front earlier would be making it less likely Liu would be caught by a rival's hand.  
"We will try to improve his ability in the first half of the race in order to avoid any disturbance in the future," said Sun.