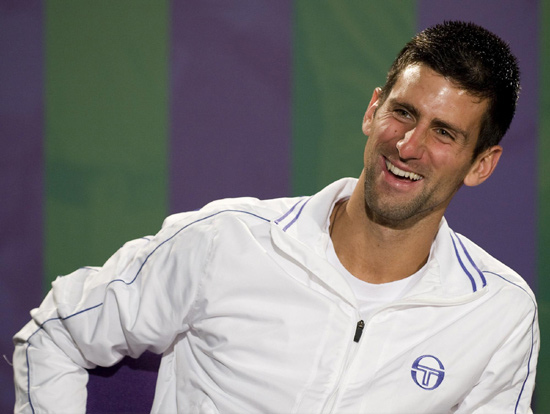 Novak Djokovic of Serbia speaks at a news conference after defeating Rafael Nadal of Spain in the men's singles final at the Wimbledon tennis championships in London July 3, 2011.  [Photo/Agencies]
LONDON - Twelve years after leaving home with a racket bag full of dreams Novak Djokovic saw two of them come true in three remarkable days at Wimbledon, culminating in an emphatic victory over Rafa Nadal in the men's singles final on Sunday.
The 24-year-old Serb, who has become almost unbeatable this year, outclassed defending champion Nadal 6-4 6-1 1-6 6-3 to win the grand slam he regards as the ultimate prize in the sport.
Apart from a brief dip in the third set it was a performance that should remove any doubts about the merit of his newly acquired world No.1 status, a position he had already guaranteed by beating Jo-Wilfried Tsonga in the semi-finals.
When a crestfallen Nadal blazed a backhand long after two hours 28 minutes, Djokovic fell to the famous Centre Court lawn and after consoling his opponent he bent down, plucked some grass from the court and put it in his mouth.
His racket-smashing antics in an earlier round against Marcos Baghdatis attracted disapproving glances but no one was begrudging him a little nibble after a dazzling performance he described as his best ever on grass.
"I managed to achieve a lifetime goal and I managed to make my dream come true, all in three days," Djokovic, who was embraced by his country's president Boris Tadic and cheered by dozens of chanting Serbian fans, told reporters.
"It's just an incredible feeling that I'm never going to forget. This is the best day of my tennis career," added Djokovic, who has come a long way since his parents enrolled him at the Nici Pilic Academy in Munich as a 12-year-old.
"It's really beautiful," Djokovic said. "This success kind of makes you rewind the old days, makes you come back to your childhood and remember what you've been through to get to this stage."
Nadal, winner of 10 of his previous 12 grand slam finals, including Wimbledon in 2008 and 2010, was never allowed to dominate the baseline exchanges as he did to devastating effect against Andy Murray in the semi-finals.
For the time being, at least, the 25-year-old seems powerless to resist Djokovic and at a loss to know how to counter him. He had lost four consecutive finals to the Serb this year, but defeat at Wimbledon will hurt most.
"I started the match without thinking about that," Nadal told reporters when asked if Djokovic now had a hold on him.
"But that's true. When you arrive to 5-4, these moments probably affect you a little bit. He played very, very, very high level for moments, and I played a little bit lower than the previous days."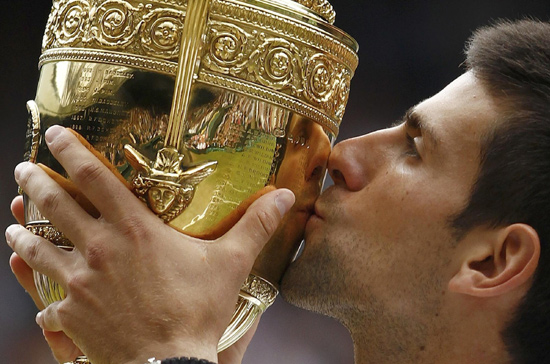 Novak Djokovic of Serbia kisses the winners trophy after defeating Rafael Nadal of Spain in the men's singles final at the Wimbledon tennis championships in London July 3, 2011.  [Photo/Agencies]
Nadal had not lost at the grasscourt grand slam since the 2007 final against Federer, a 20-match streak, but struggled to impose himself against a clinical Djokovic who forged into a two-set lead in little over an hour.
Yet despite winning 47 of his 48 matches this year and his recent domination of Nadal, Djokovic began as underdog having never got the better of the Spaniard in a grand slam match.
Scorching Forehands
Nadal began as he finished against Murray, scorching two forehands past Djokovic to threaten an immediate break.
A composed Djokovic, though, took a deep breath and repelled Nadal's early fury to get on the scoreboard first and the match settled into a high-tempo rhythm with neither player showing any weakness on serve.
The doubts that were nagging in Nadal's head surfaced in the 10th game when, at 30-30, he hooked a forehand into the net and followed that with another loose stroke into the tramlines to hand Djokovic the opening set.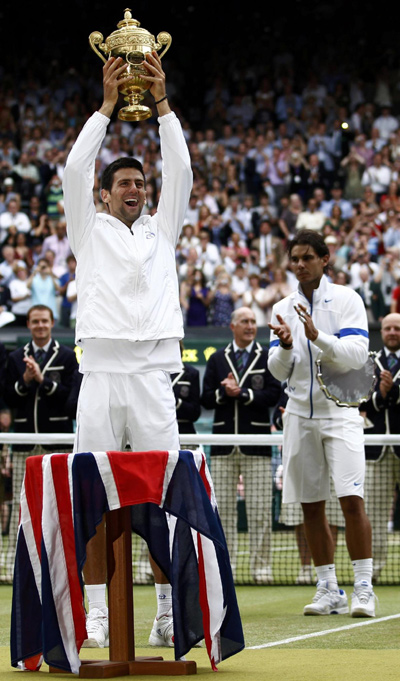 Novak Djokovic of Serbia holds the winners trophy after defeating Rafael Nadal of Spain (R) in the men's singles final at the Wimbledon tennis championships in London July 3, 2011.  [Photo/Agencies]
With his confidence soaring Djokovic pounced early in the second to gain a break.
Showing the kind of court coverage and accuracy that has become such a big part of his armoury he reached a Nadal drop shot and flicked the ball behind the net-rushing Spaniard, greeting the winner with a huge Serbian roar.
Two pinpoint aces made it five games in a row and a complete stranglehold of a final that was rapidly slipping away from a becalmed Nadal.
In the sixth game Djokovic produced a stunning drop shot, then a topspin lob and a wrong-footing forehand to earn another break on the way to taking the set in 33 minutes.
With the final in danger of becoming a rout the crowd's support swung to Nadal and the fighback they wanted began almost immediately when the Spaniard seized on a few Djokovic errors to race through the third set.
Not since Henri Cochet in 1927 had anyone come back from a two-set deficit to win the title but Nadal's notorious fighting qualities suggested it could be about to happen.
Djokovic, though, was not about to let his dream die.
"I relaxed a little bit too much in the start of the third set," Djokovic said. "But in the fourth set I was in the lead all the time. The first game was very important to hold the serve. After that, was really great tennis."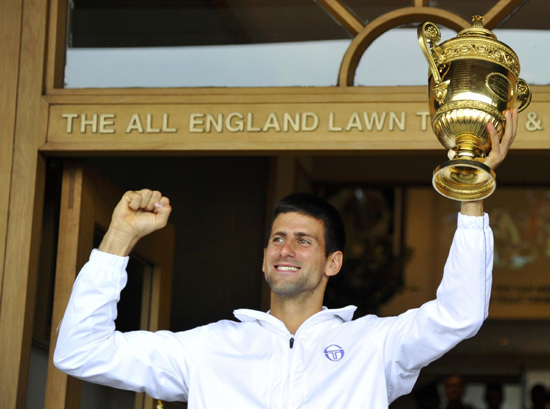 Novak Djokovic of Serbia holds the winners trophy in front of the clubhouse after defeating Rafael Nadal of Spain in the men's singles final at the Wimbledon tennis championships in London July 3, 2011. [Photo/Agencies] 
Even when Nadal got a huge slice of luck to break back in the third game of the fourth set with a backhand that dribbled off the netcord and died on Djokovic's side, the Serb remained steadfast, his self-belief unshaken.
Djokovic continued to match Nadal from the baseline and he broke the Spaniard's serve again in the eighth game before clinching victory on his first match point.
The Czech Republic later celebrated a hat-trick of Wimbledon triumphs when Iveta Benesova teamed up with Austrian Juergen Melzer to capture the mixed doubles title with a 6-3 6-2 win over Mahesh Bhupathi and Elena Vesnina.
Petra Kvitova won the women's singles on Saturday and Kveta Peschke won the women's doubles with Slovenia's Katarina Srebotnik.