Level-minded on court, Li Na, affectionately dubbed "Sister Na" by her countrymen, is also appreciated for her off-court wit. A late-bloomer, now in her late 20s, she displays emotional maturity for her age in the face of such sudden fame and glory.
Shara's double faults help me

She (Sharapova) has a huge and big serve, so I was like: 'Please, double-fault. That way I can win the match. I never believe myself I can be in final in French Open.

 

 

 

 
Quotable Li Na

Husband's card pushes me

You can see now (after her quarterfinal victory at the Australian Open this January) the credit card here in my hand, he just left, you can't find him anymore.

 

 

Who is the most famous Chinese athlete?

If I were a man, I would be more famous than Yao Ming. But I'm a woman, who can never be on an equal footing with men. That's the case in China and all over the world.

 

 

A housewife-wannabe

People ask me what I want to do after tennis. I actually want to be a housewife and look after my family well and let them grow up with nice memories.

 

 
 

The broad-smiling and out-spoken Hubei native is, quite, a maverick compared with her pals in the Chinese sporting field. She has a tattoo, has dyed her hair many different colors and has even yelled "shut up" at her home fans at the 2008 Beijing Olympics when they got too vociferous in supporting her. Related: Unconventional Li does it her way

Tattoos are often associated with bad behavior in China. But Li is not shy about showing off the rose which adorns her chest; she told fans it is a symbol of her love for her husband, whom she enjoys making fun of during courtside interviews.



 

 
 

He's responsible for my bad sleep

I am always the number one...but I was nervous because I didn't get much sleep last night. My husband was snoring all night long... 

 

                          He's ugly
I will always love you, whether you are ugly, old or not...

 

In late 2008, the strong-willed Li broke off with the state-supporting system and started her own team, which allowed her to appoint her own coach, make her own season schedule and be financially independent, sourcing sponsors and managing her winnings.
Together with Li, three other players, namely, Zheng Jie, Yan Zi and Peng Shuai were "freed" by the country's tennis authority to run their careers themselves.
And it seems the freedom worked wonders. Here is the the impressive list of achievements by the four "fly alone" players since 2008:
2008

June - Zheng Jie, a 133rd-ranked wildcard, beats top seed Ana Ivanovic on her way to the semi-finals at Wimbledon, the first Chinese to reach the last four at a grand slam.

August - Zheng Jie and Yan Zi win bronze in women's doubles at the Beijing Olympics.
2010

January - Zheng Jie and Li Na reach the last four at the Australian Open, the first time China has had two players in the last four at a grand slam. Lose to Justine Henin and eventual champion Serena Williams respectively.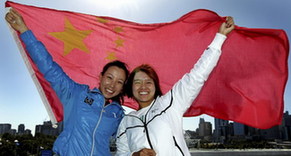 January - Li Na becomes the first Chinese player to reach the women's top 10 in the world rankings.
2011

January - Li Na comes back from 5-0 down in the first set to beat Kim Clijsters in the final and win the Sydney International, her first premier level Women's Tennis Association title.

January - Peng Shuai beats seventh seed Jelena Jankovic on her way to her first grand slam fourth round appearance at Melbourne Park.

- Li beats world number one and top seed Caroline Wozniacki in the semi-finals of the Australian Open to become the first Chinese to reach a grand slam singles final, losing to Kim Clijsters.

June - Li reaches a second consecutive grand slam final at the French Open and beats holder Francesca Schiavone 6-4 7-6 to become the first player from an Asian nation to win a grand slam singles title.
At her winner's news conference in Paris, Li made a special point of thanking Sun Jinfang, the China Tennis Association chief.
"Without her reform, then possibly we wouldn't have achieved this success," she said.
And Sun believes her successful let-go experiment could prompt other sports, like football and basketball, to do the same. "We took a lot of risks with this reform. When we let them fly, we didn't know if they would succeed. That they have now succeeded means our reform was correct," Sun said.  Related: 'Fly-away' works for Li and companies
A survey by ifeng.com indicates that 60.1 percent (about 301,463) of the respondents agreed "freedom" is the key reason to Li Na's success, while 22 percent remained diplomatic saying both systems have their advantages and different sports need different ways of training. Another poll by chinadaily.com.cn shows 62.03 percent (5,133) of the takers believed Li Na's experience of "flying alone" could penetrate China and an overhaul of the state-supporting sports system is possible sooner or later.
Li Na, however, was brought up by the paternal system as a badminton player from a young age. She admitted China's sports system is remarkably successful at producing world and Olympic champions. But in tennis, she believes, freedom is the key.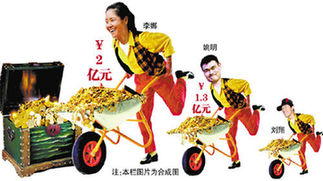 Cartoon images of Li Na, Yao Ming and Liu Xiang, China's most successful sport figures, are these days constantly cropping up on the Internet.
Li towers over Yao and Liu, signifying that the female will surpass the then-top-idols to become the new sponsor favorite.
The addition of the $1.75 million bonus money for the French title brings Li's season income till now to $3.23 million, much more than the total earnings of her 12-year career thus far.
Contracts and coverage from sponsorship deals helped Li rank No 35 on the 2011 Forbes China Celebrity List announced last month before her latest win.
A CCTV anchor estimated that Li may earn as much as 200 million yuan through sponsor endorsement after the French triumph while Yao 130 million and Liu even less.
Li's own commercial backers now include Nike, which has already received exposure from broadcasts back to China showing the 29-year-old wearing the brand. Ads currently run by Rolex today have highlighted its ties to Li. The Chinese athlete also partners with Nestle's Haagen Dazs ice cream.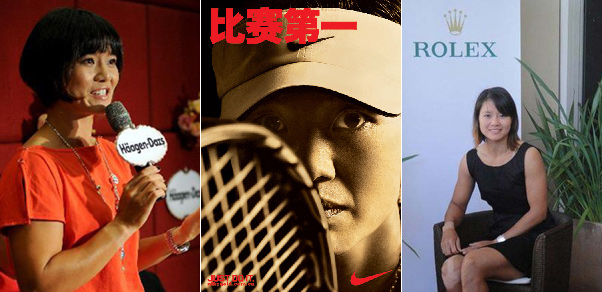 Given the popularity of celebrity endorsements in the country, other tennis stars from may also profit from Li's win.
If she keeps winning, it will boost the endorsement spending on other tennis stars by international sportswear companies like Nike. It may also, more than ever, bring into the bidding Chinese sportswear companies that are building world-class business heft and have in recent years been increasing their ratio of spending on advertising and promotion as a percentage of total costs.
For instance, Yao's success in the NBA, the popularity of the game in China, and China's modest success in international basketball competitions have led to a slew of deals between NBA figures and Chinese companies, including Kevin Garnett and Luis Scola.
Already, tennis star Jelena Jankovic has an endorsement contract with China's Anta Sports Products. Olga Govortsova has an agreement with Peak of China.


From doubles championship to singles final finish to singles title between 2006 to 2011, China's success on the grand slam court has proved no fluke. And Li has proved herself not a swindler as her opponents on court and world media identified her as a player to beat.
Coach: Li Na is Roger Federer in women
"It (Li Na's semifinal performance in French Open against Sharapova) is kind of Roger Federer of the women; she can do so many things."
Sharapova: She's well-deserved
She certainly played a lot better than I did and a lot more solid, and she played the crucial points better.
Li's current world No 4 spot led China to a new high in world tennis and her ambition in the upcoming Wimbledon Open in two weeks' time carries more hope for her country and continent.
According to a chinadaily.com.cn polls, an overwhelming 95.09 percent of respondents believe Li could win more titles given her in-form performance this year.  Related: Li Na sets sights on next challenge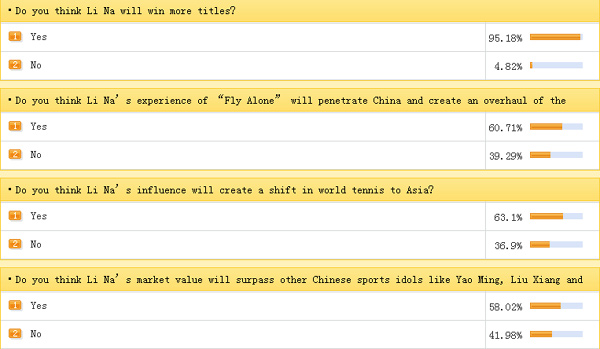 A Survey by chinadaily.com.cn shows that an overwhelming 95.09 percent of respondents believe Li could win more titles
Despite Li and her tennis pals' rise, tennis in China, however, is still considered an elite sport. As one of the most professional sports in the world, thought, tennis has quite a small popularity in China compared with basketball, soccer, and the "national sports" of badminton and table tennis, where China usually sweeps international tournaments.
However Li is steering things in another direction. Related: Li Na's win to bring change
Her French Open final received 116 million viewers out of her 1.3 billion countrymen, not far behind the amount of viewers who tuned in for the Beijing Olympics opening ceremony. The previous highest Chinese TV audience for a sporting event this year was when 60 million viewers saw her lose to Kim Clijsters in the Australian Open final in January.
On the Chinese Internet, home to more than 470 million users, the number of Li's followers on Sina Weibo, the nation's Twitter-like social networking site, has jumped to 2.2 million and is still on the rise.
At home, the "Li Na craze" is in vogue. Reports and chat regarding the tennis ace are flooding the Internet and parents are sending their children to pick up rackets and attend tennis training schools.
Sun Jinfang said "It will inevitably be a strong driving force behind the development of tennis in China and increase society's focus on and support of the sport" and Li Na also recognized her impact on China's next tennis generation.
But training school coaches, bombarded these days with cell phone calls from parents, put a damper on their Li Na-wannabe ambition by warning of high training and court fees, and, if turning professional, high daily spending including travel and team member salaries. Related: Children rushing to serve after Li's victory
 


Li Na now spends 10,000 yuan on average daily, including travel fees, team member salaries and other fees.

While during Primary stage (at least)

Training fees: 7,200 yuan per year (four 1h classes per week)

Racket: 1,000 yuan for one (need to change more and more frequently as the trainee's strengthen increases.

Tennis shoes: 400 yuan per pair (need to change monthly)
Other fees (court fees, nutrition fees and so on)
Total: 10,000 at least per year

How much a Li Na-wannabe has to pay en route to a real "Li Na"...

 
Li and future would-be Li Nas are not the only solution to electrify the nation's tennis scene.
Much earlier than Li and her pals' international splash, China had already been tapped as a location on the world tennis tournament circuit with the annual China Open played since 2004. The WTA (Women's Tennis Association) has awarded Beijing one of their four "Crown Jewel" tournaments and have relocated their Asia-Pacific headquarters to the Chinese capital.
Thanks to Li, a fifth tennis grand slam (the current annual four are, namely, Australian Open, French Open, Wimbledon Open and US Open) might be landing in Asia, or specifically, China.  Related: Li Na's feat will aid Asia's bid for 'fifth slam'
Don't pin Li onto a second grand slam title. However she performs on the lawns in the coming Wimbledon Open in London, the impact of her crowning glory in Paris on the future of the sport could well be felt for years to come.
It is always more than a grand slam win.  Comment: Li Na's win to bring change