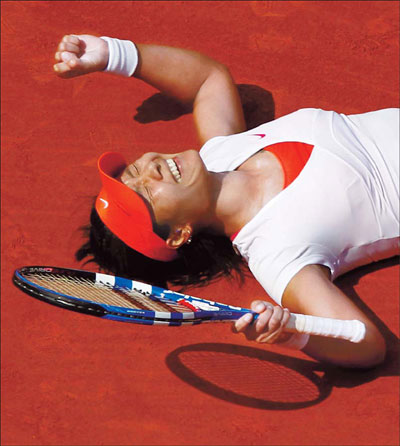 Li Na of China reacts after winning the women's fi nal against Francesca Schiavone of Italy at the French Open at Roland Garros on Saturday. Thierry Roge / Reuters
China's first Grand Slam champion took an unorthodox path to glory
PARIS - From badminton hopeful in China to Grand Slam tennis champion on the clay courts of Paris, Li Na's rise to stardom has never been short of unconventional.
Even her 6-4, 7-6 (0) victory over defending champion Francesca Schiavone at the French Open on Saturday, when she became the first player from China to win a Grand Slam singles title, smacks of the improbable.
Li did reach the Australian Open final at the start of the year when she lost to Kim Clijsters.
But that defeat in Melbourne prompted an abysmal run of form, taking in four consecutive first-round defeats before she rediscovered her touch on clay, a surface she had previously abhorred.
The explanation for this startling turnaround lies largely with her own willingness to look outside the boundary ropes for answers to her problems.
In this case she ditched husband, Jiang Shan, as her coach and instead hired Dane Michael Mortensen, with her husband reduced to the role of hitting partner and cheerleader.
That is typical of the ruthless mindset shown throughout her career by the native of Wuhan.
Unwilling to be shackled by the Chinese sports system, leading to clashes with officialdom and a reputation for being difficult, she's managed to do it her way and that way has worked in the end.
Yet it was a badminton racquet that kicked off Li's sporting career, with limited success, leading to a switch to tennis when she was just nine.
"At the time, tennis was not so popular in China. After my family saw the court, they said, 'okay, we'll change'. I was like, 'why you didn't ask me?'"
Frustrated by her inability to reach the main draw of the Grand Slams, Li retired for two years in her early 20s when she studied journalism, but a plea to play in a national competition reignited her passion for the game.
Now the trailblazing Li is being mentioned in same breath as China's basketball superstar Yao Ming and world champion hurdler Liu Xiang, and she has become a flagbearer for the growing sport of tennis in her giant homeland.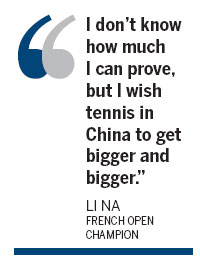 Li was also the first Chinese woman to win a WTA title in Guangzhou in 2004, the first to make a Grand Slam quarterfinal at Wimbledon two years later, and the first Chinese player to break into the world top 10. Her victory over Schiavone makes her the first Asian player to win a major and will see her ranked at a career-best fourth in the world.
Her reputation as being difficult with domestic media is hard to reconcile with the smiling, wise-cracking figure that has charmed many in Melbourne and in Paris this year.
She jokes about the financial rewards on offer in tennis, castigates her husband, who married her in January 2006, for spoiling her sleep by snoring, and ribs journalists for suggesting that at 29 she is old for a tennis player.
But there is a serious side to her nature as well and she is well aware of the attention her triumphs are receiving back home and how her example could trigger a tennis boom in China that could rock the sport to its core.
"I think I proved a little bit for China tennis, because I'm sure they showed the match at the same time (live) in China, so maybe many children saw the match, and think that maybe one day they can do the same or even better," said Li after her semifinal win over Maria Sharapova.
"So they have the goal. I don't know how much I can prove, but I wish tennis in China to get bigger and bigger."
Agence France-Presse
(China Daily 06/05/2011 page12)