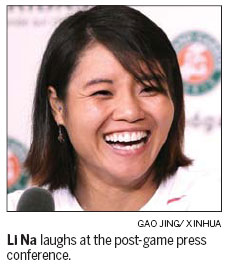 BEIJING - Newly-crowned French Open champion Li Na is already thinking about winning another Grand Slam title after her epic triumph at Roland Garros on Saturday.
The victory made her the first Chinese and Asian player to don a crown at a Grand Slam tournament and will elevate her to world No 4, equaling the Asian record set by Japan's Kimiko Date-Krumm.
"When you have the first one, naturally you will think about the second one," Li told China Daily in a telephone interview.
Although she always thought she had the ability to win a major event, the gallant star confessed she was surprised that her first Grand Slam title came on the clay court at Roland Garros.
"French Open title? No, I never thought about it before," said Li, following the tournament's tradition of producing dark-horse winners.
The Chinese No 1 is happy to have shown her potential on the clay courts, her least favorite surface, and now believes the unexpected triumph will give her a competitive edge on other surfaces.
Li had never gone beyond the fourth round at Roland Garros before Saturday's victory, although she had made it to the quarterfinals - at least - at three other Grand Slam events. "Now I have more confidence playing on other surfaces," she said.
Next is the grass court season and Wimbledon, the third major of the year, where she made the last eight in 2006 and 2010.
Li has chosen to put her celebrations on hold and stay in Europe, partly due to an attempt to avoid avid fans at home, and also so that she can better prepare for Wimbledon. "If I don't play well at Wimbledon, maybe people will forget me when I come home," she joked.
For many Chinese young people, Li has become a role model. By Sunday afternoon, more than 5 million people were talking about Li on Sina Weibo, one of China's leading micro blog websites. More than 2 million people have also registered as Li's fans.
China Tennis Association chief Sun Jinfang said on Saturday that Li will help drive the sport forward in China, where it is still considered an elite game that lags behind basketball, soccer and table tennis in its draw on youth, Xinhua News Agency reported.
"The victory can have a great effect on Chinese tennis. I'm sure it will help re-evaluate the sport and inspire more youngsters to play tennis," Sun said after Saturday's final.
Li also passed on to her fellow Chinese players an inspiring message during her interview with China Daily, saying all they need is the confidence that they can emulate her heights in the near future.
"They are all very good players and they just don't have trust in themselves," Li said. "They need to believe that they can also do it."
Chinese male players have never gone beyond the second round of any ATP tour event, nor have they played in a Grand Slam. The highest-ranked Chinese male player is Bai Yan, who is No 354.
"Chinese people are so lacking in confidence (on the tennis court). If there is a person like me who can prove we can do it, the young players in China will feel the same," Li said.
No matter how significant the French Open crown is, Li said she has already come back down to earth and is mentally preparing for the next challenge.
"That's what it is all about playing on the professional tennis tour. You can't stop at one victory. So for me, it will start all over again on Monday."
The 29-year-old also said she believes that age will not stand in the way of her reaching even greater heights.
"For me, age means nothing but strokes on paper. I'll keep playing as long as I'm healthy."
China Daily
(China Daily 06/06/2011 page1)