The huddle of reporters gasp as Ma Songqi flies past them, feet planted and knees bent in a classic surfing stance, before drifting in a smooth arc around the startup incubator's reception room.
Ma has invited the reporters to the center in Shenzhen's Qianhai Free Trade Zone to demonstrate the "surfwheel", his new invention that he claims is the closest thing possible to surfing on land.
The surfwheel, a battery-powered device that can reach impressive speeds of up to 18 kilometers per hour, is similar in concept to a hoverboard, but the 80 centimeter-long board is ridden side-on like a skateboard or surfboard.
The product is a labor of love for Ma, and a tribute of sorts to his former life in North America. Originally from Hong Kong, he moved to Canada with his family at the age of 14 and lived there for 15 years, returning to China at 29 when he was offered a job at technology giant Philips.
Ma enjoyed being back in Hong Kong, but found that he pined for America's surfing culture. At the time, surfing was yet to take off in Hong Kong and Ma found it difficult to find beaches suitable for riding waves, or other surfers to go with.
And even when he did eventually sniff out Hong Kong's tiny surfing community, his busy job as a product manager at Philips and later Belkin left him little time to pursue his passion.
Unable to ride real waves, Ma decided to try the next best thing. "I had always wanted to create a unique, fun mobilized vehicle," he told China Daily. "So I started to recruit a group and do research on the surfwheel project three years ago."
Ma and his team have gone to extraordinary lengths to re-create the experience of surfing as closely as possible, developing a patented tire design that allows riders to carve smooth turns and feel like they are really gliding over the water.
The 15-kilogram vehicle does not require any extra equipment to use and can ride over any smooth land, including lawn. To give his customers the freedom to ride all day, Ma designed replaceable batteries for the board which can be easily changed every hour or so.
Earlier this year, Ma and his team took their design to the Young Professionals Alliance program held by Qianhai FTZ, and were selected to move their operations to the Qianhai Innovation Center.
So far, Ma has been delighted with the move. "Qianhai FTZ is a great platform for Hong Kong entrepreneurs to be recognized and provides startups with immediate support," he enthused. "It's a really resourceful center."
Now, Ma has set his sights on conquering China's competitive hoverboard market. But first, he has to tackle the issue that set him on this path more than three years ago.
"There aren't many surfing lovers in China. It's quite hard for us to promote our product in the Chinese market," Ma admitted. "But our brand has been recognized in regions around the world, especially in Australia, America and the European Union."
To help promote the surfwheel in China, Ma signed a cooperation agreement with Warner Brothers and designed a range of superhero-themed boards, including Batman, Wonder Woman and Superman designs.
And he remains confident that there is a huge potential market for the surfwheel in China. "My intention is to give people a fun riding experience," he said. "I must say it's still the most fun sport on land I've ever experienced."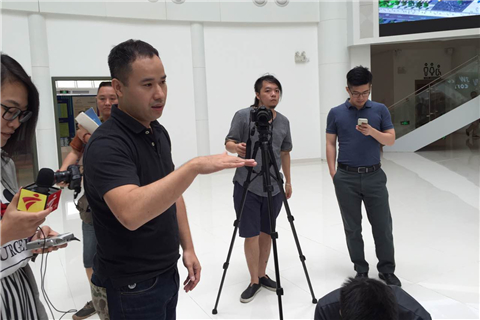 Ma Songqi, the founder of Surfwheel Limited Company, introduces the surfwheel to the media. [Photo/ chinadaily.com.cn]
Ma Songqi rides his surfwheel board. [Photo/ chinadaily.com.cn]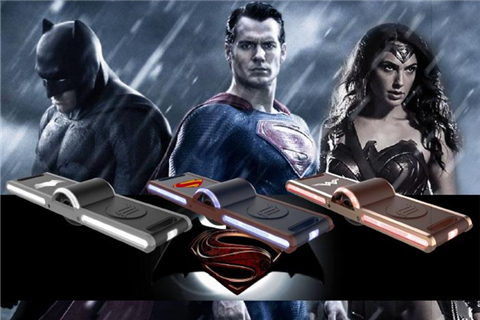 The newly-launched superhero range of surfwheels. [Photo provided to chinadaily.com.cn]