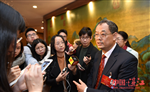 In addition to Zhanjiang Mayor Wang Zhongbing, another six deputies at the fourth session of the 12th National People's Congress (NPC) also expressed their views after the hearing of Premier Li Keqiang's delivery on the Government Work Report on March 5.

Our goal is to improve the happiness of people...
Read More
Zhanjiang Mayor Wang Zhongbing holds a live chat themed "Deepening ASEAN cooperation, building a pivot city".

Export of furniture made in Zhanjiang reached $820,800 million in 2015, up 11.4 percent compared to a year ago.

The passenger volume of Zhanjiang Airport reached a new high of 24,000 travelers from Feb 7-13.
Zhanjiang has been taking great steps toward self-improvement.

Due to its lush ecological environment and improved protection work, Zhanjiang earned the title.

Some 160,000 descended on the scenic spot from Feb 8 to 13.
Fu Zhenjun is one of the new entrepreneurs to be in 3D printing industry.

Blooming flowers at the Sino-Australian Friendship Garden in Zhanjiang have prompted more visitors.