More than 100 billion yuan ($14.98 billion) in deals were signed in a single day at the 11th Pan-Pearl River Delta (PPRD) Regional Cooperation & Development Forum held in Guangzhou on Aug 25.
The nine deals which were signed cover many sectors of the economy, such as infrastructure construction, industry upgrading, environmental protection, technological innovation and financial services.
A total of six of the deals signed by the PPRD are tied directly to Guangdong, including a poultry breeding project between Guangdong-based Wens Foodstuffs Group and the Liping county of Guizhou province.
The PPRD, China's largest economic bloc, also known as "9+2", has attracted more than 20,000 projects exceeding 4.3 trillion yuan since it was established in 2004, effectively boosting the cooperation and development in the Pan-Pearl Delta Region.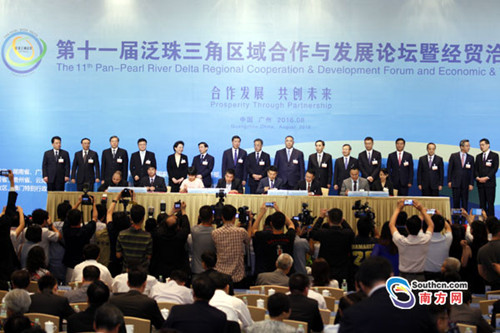 Representatives of nine projects sign cooperative agreements at the PPRD development forum held on Aug 25 in Guangdong. [Photo/pprd.org.cn]