The 11th Pan-Pearl River Delta (PPRD) Regional Cooperation & Development Forum took place in Guangdong's capital city Guangzhou from Aug 24 to 25.
The two-day event was aimed at deepening regional cooperation and exploring ways to use online media to promote the PPRD and its development.
Tang Jianjun, deputy director of Network News Agency of the Office of Central Leading Group for Cyberspace Affairs, attended the forum with delegates from 11 administrative regions and provinces.
Tang spoke at the opening ceremony, pointing out that Internet media has become increasingly influential and a major player when it comes to inter-regional development. He said that cooperation between different regions couldn't be carried out successfully without information exchange through media.
The PPRD consists of East China's Fujian and Jiangxi provinces, Central China's Hunan province, South China's Guangdong and Hainan provinces and the Guangxi Zhuang autonomous region, Southwest China's Sichuan, Guizhou and Yunnan provinces and two special administrative regions, Hong Kong and Macao.
In response to the national call for deepening regional ties, the PPRD, China's largest economic bloc, also known as "9+2", jointly organized the forum with Guangdong and Fujian.
Some of the ideas floating during the early stages of the forum were the ideas that in addition to updating and transmitting news, online media could also carry out research on public opinion and report more on reactions to particular events in order to influence government decision making.
In 2015, The PPRD's members reached a combined GDP of 21.9 trillion yuan ($3.28 trillion), accounting for 32 percent of the national index. The average GDP growth rate among the PPRD stands at 8.9 percent, above the national level of 6.9 percent.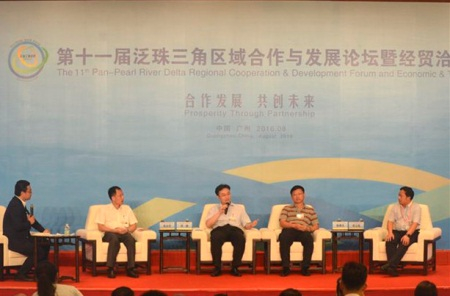 The heads of several online media outlets discuss trends in public relations and digital marketing at the PPRD forum. [Photo provided to China Daily]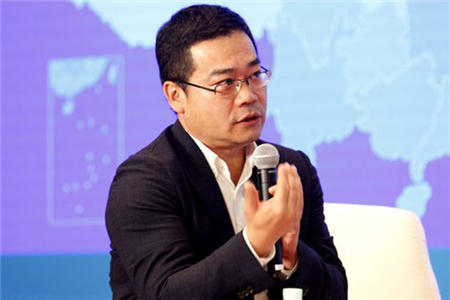 Wang Shijun, deputy director of Guangdong TV, hosting the PPRD Internet Media Forum. [Photo provided to China Daily]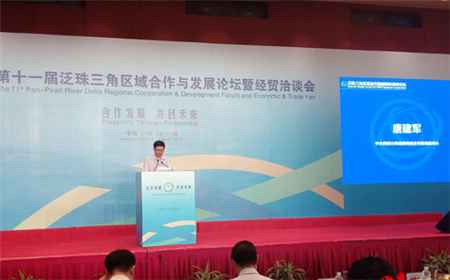 Tang Jianjun, deputy director of Network News Agency of the Office of Central Leading Group for Cyberspace Affairs gives a speech at the forum. [Photo provided to China Daily]