On their way to winning the women's team sprint gold medal on Aug 12, Chinese cyclists Gong Jinjie and Zhong Tianshi were not the only thing getting tongues wagging on social media as they lapped the Olympic velodrome in Rio.
As the riders ducked their heads and pedaled at full power, it revealed the quintessentially Chinese helmet designs of two legends of Peking Opera, Hua Mulan and Mu Guiying.
Zhang Dongliang, 30, chief designer at Incolor, a Guangzhou-based design studio, created the helmet designs and said that his inspiration came from the characters of the two cyclists.
"Both Gong and Zhong have perseverance and a fighting spirit, similar to the two wartime legends in ancient China," Zhang said.
Zhang, who used to be a keen cyclist himself, met with Xu Chao from the national cycling team and was asked to design the helmets. "They asked me in May this year," Zhang said. "I was so excited I said I would do it for free and got to work straight away."
For Zhong Tianshi's helmet Zhang decided to paint the face of Hua Mulan, a legendary female warrior from Southern and Northern Dynasties (AD 420-581). Hua, who took over her aged father's place in the army, fought for 12 years and gained much acclaim. Afterwards she refused any reward and retired to her hometown instead.
On Gong Jinjie's helmet, Zhang painted the legendary heroine named Mu Guiying from Northern Song Dynasty (AD 960-1127) and a prominent figure in the Generals of the Yang Family legends.
"Usually it takes half a month to design a helmet, but this time, we spent two months designing them," said Zhang.
"I felt so great when I saw them come home in first place," said Zhang. "Our helmets are painted by hand and as special and unique to us as winning a gold medal at the Olympics."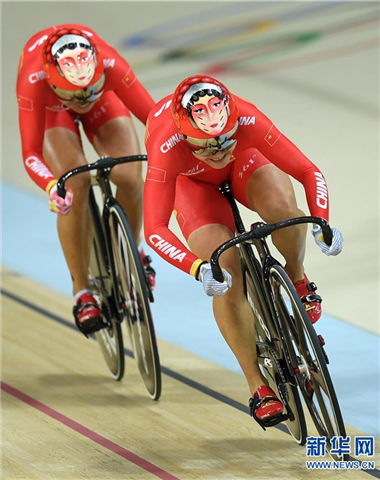 Gong Jinjie and Zhong Tianshi at the 2016 Rio Olympics women's track cycling team sprint finals on Aug 12. [Photo/Xinhua]