Foshan, a traditional manufacturing city in Guangdong, is making earnest efforts to inject the "spirit of craftsmanship" into its manufacturing sector.
On June 21, the city held a ceremony honoring 30 technicians and engineers selected from various industries, as its first officially-recognized craftsmen. Senior officials of the city, including Party Chief Lu Yi and Mayor Zhu Wei, presented the awards.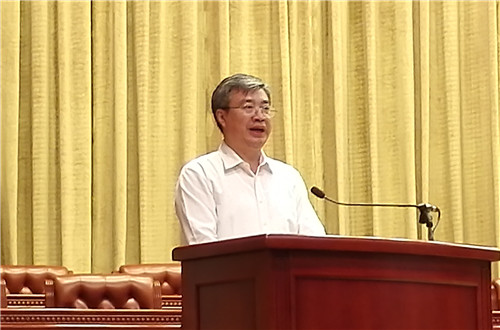 Lu Yi, the Party chief of Foshan, speaks during the city's craftsmen naming ceremony on June 21. [Photo by Zhang Qiong / chinadaily.com.cn]
Lu said that the city's move was inspired by this year's Government Work Report, where Premier Li Keqiang said the country will "encourage enterprises to use flexible and customized production processes and foster a craftsmanship spirit of striving for the best, so that more types of products, of higher quality and brand will be made".
Craftsmanship spirit refers to the dedication craftspeople give to their work in order to make it as well made as possible. It's exactly what Foshan needs in its transition from being a reasonable large manufacturing city to a powerful one, according to the city's policymakers.
"The total output value of the city's industrial enterprises with annual revenues of 20 million yuan ($3.03 million) or more hit 2 trillion yuan in 2015. But compared with countries such as Germany, the United States and Japan, or China's-own Shenzhen, Foshan's manufacturing industries are still at the low end of the global industrial chain," said Lu. He said that Foshan's industries should have more independent innovation capability, which requires the craftsmanship spirit to improve their competitive capabilities in the international market.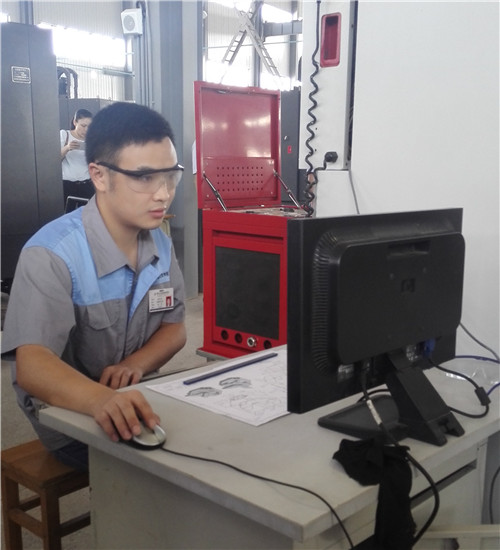 Technician Xie Haibo, a specialist at CNC Milling, was named a Foshan craftsman, at the ceremony on June 21. [Photo by Zhang Qiong / chinadaily.com.cn]
The craftsmen naming event is the city's bugle call to encourage enterprises and individuals to cultivate such a spirit to facilitate economic restructuring and promote innovation. The winners, most of whom are frontline workers, will be eligible to receive subsidies to set up their own workshops as well as regular government allowances in addition to their normal salary. The non-locals among them will attain permanent residence in the city as well as equal education opportunities for their children.
"We will award craftspeople the highest honor of the city," Lu said passionately during the ceremony, adding that the city will guarantee its outstanding skilled personnel the "great honor, proper social status, a secured career and material benefits".
"After all, Foshan counts on tens of thousands of craftspeople every day to grow into a top-level manufacturing city," he said.
Hu Jianwu, a worker at Foshan Nanhai Zhongnan Machinery, named as craftsmen, said "It's great recognition and encouragement for us frontline and blue-collar workers." Hu's endeavors in the processing techniques of press valve and control valves broke technological barriers abroad, and filled a gap in domestic market. Hu's apprentice, Xu Zhan, said that following in his master's footsteps gives him the urge to strive for innovation as well as hope for his own future.
According to the local human resources and social security bureau, the city has been pushing incentives to get the best out of its workers since 2011. A spokesperson said that the craftsmen naming events will be held every two years.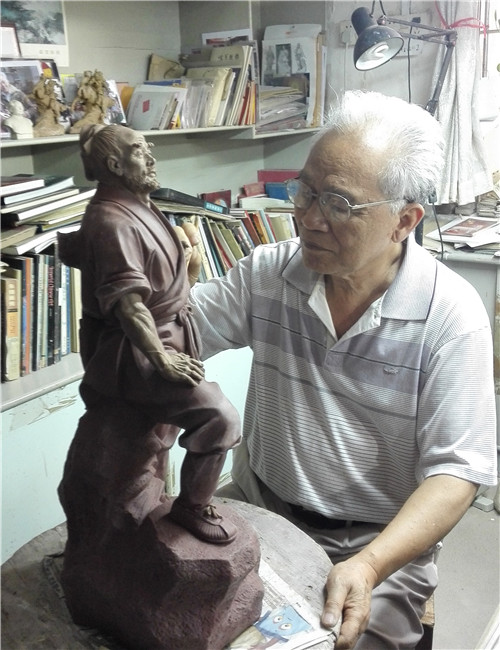 Foshan craftsman Liu Zemian, a senior craft artist from Foshan New Shiwan Artistic Ceramic Co., Ltd, works on his latest ceramic creation, Lu Ban on June 22. Lu was an extraordinary ancient Chinese carpenter, engineer and inventor. [Photo by Zhang Qiong / chinadaily.com.cn]
Edited by Owen Fishwick