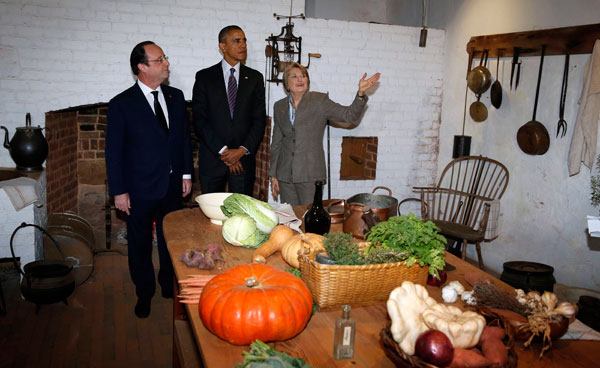 US President Barack Obama (C) and French President Francois Hollande (L) tour the Virginia residence of Thomas Jefferson with Leslie Greene Bowman, president and CEO of the Thomas Jefferson foundation, at Monticello in Charlottesville Feb 10, 2014. Jefferson was one of the United States' earliest envoys to France. [Photo/Agencies]
WASHINGTON - US President Barack Obama and his French counterpart, Francois Hollande, toured Thomas Jefferson's estate on Monday, hailing long-standing Franco-American relations that benefited from the legacy of the famed Francophile.
The trip to Monticello, a plantation estate in the State of Virginia, marked the beginning of Hollande's three-day state visit to the United States.
"We were allies in the time of Jefferson and Lafayette. We are still allies today. We were friends in the time of Jefferson and Lafayette, and we will remain friends forever," Hollande said in Monticello's foyer.
Jefferson, one of the Founding Fathers of the United States and the country's third president, was the American ambassador to France when Bastille was stormed, which set in motion the French Revolution.
Noting Jefferson's special role in US and French history, Obama said he represents "the incredible bond and the incredible gifts that France gave to the United States, because he was a Francophile through and through."
Hollande's visit to the United States came at a time of strong bilateral relations, as the presidents hailed a "transformed" and "revitalized" alliance.
"A decade ago, few would have imagined our two countries working so closely together in so many ways. But in recent years our alliance has transformed," Obama and Hollande wrote in a joint op-ed published on Monday.
Since France's return to NATO's military command four years ago, Washington and Paris have expanded cooperation across the board and taken their alliance to a new level, reads the op-ed, published in The Washington Post and Le Monde newspapers.
On Tuesday, Obama will meet Hollande at the White House and host him with a state dinner.