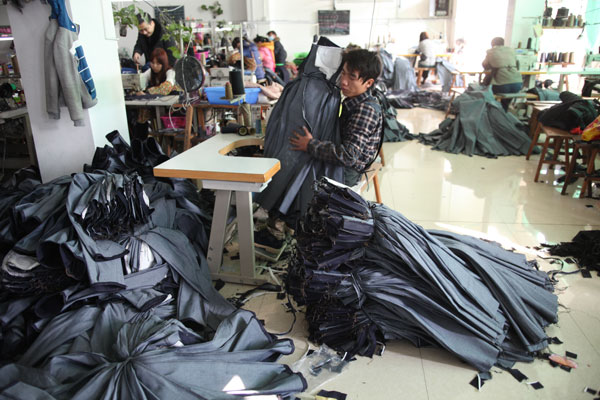 Workers make jeans at YZY, one of about 1,600 jeans factories in Fumian that post annual sales of 3.5 billion yuan. The effect of chemical runoff on nearby streams, however, is a sour note in the area's sweet economic success. By Huo Yan / China Daily 
Manufacturing jeans brought wealth but also environmental woes, reports Li Yang in Guangxi
After French newspaper Libration reported on Fumian's prospering jeans industry in 2004, the town in Southwest China's Guangxi Zhuang autonomous region proclaimed itself "world capital of jeans".
Ten years on, the title comes at a high cost for the town, in terms of both the environment and working conditions.
Asked why they only make jeans, the workers reply it's because they are easy to make and always popular.
From its outward appearance, with boxy three-story buildings lining narrow lanes, Fumian does not seem very different from any other town in Southwest China.
But with a population of 300,000, it produces nearly 300 million pairs of jeans each year, though few of the products find their way into developed markets, because of their low quality and heavy residue of dyeing chemicals.
In the streets of Fumian, which is to the east of Nanning, capital of Guangxi, pedestrians, chickens, tractors and rusty minivans shuttle among a torrent of electric bicycles, with the occasional appearance of limousines showing plates registered in the better-off neighboring Guangdong province.
The electric bicycles belong to the factory workers. The luxury cars are those of the owners, most of whom are young, still in their 30s.
Historically, the town produced indigo dyes and linen. It saw its garment industry take off with China's reform in the late 1970s.
But the old tailors, who had designed and made clothes in the town, say that today's jeans-makers are not in the same category.
"They are only manual workers," said Chen Deqing. Wearing a worn-out leather apron, Chen, in his late 80s, is the oldest tailor in Fumian and still runs a shop there.
"A tailor works with his mind and hands. They [the factory workers] use machines and pre-set designs copied from other places."
Fumian's jeans industry started in the mid-1990s. By 1995, there were 260 jeans factories in the town's 2,600-people Fuxi village, which posted annual sales revenue of 560 million yuan (about $92 million). At that time, most locals made less than $1 a day.