Shanghai starts to enforce smoking ban



Several districts in Shanghai have put regulations asking government officials and leaders to stop smoking in public into force. The Environmental Protection Bureau of Jing'an district has led the way in "forbidding smoking inside its office building". 

Guizhou gets tough on public smoking

The Guizhou provincial government imposed a smoking ban on Thursday. According to a government statement on Thursday, it will set up no-smoking spots in public areas.




Lanzhou bans smoking in public

Lanzhou, capital of Northwest China's Gansu province, implemented a tough smoking ban in specified public places aimed at combating "indoor haze harm" on Jan 2.

Harbin enacts smoke-free law

A law making all indoor workplaces and public places in Harbin 100% smoke-free became effective on May 31, 2012. 
China failing to stamp out smoking

China has been doing a poor job of curbing smoking and protecting its people from the "silent killer", according to a latest report by an outspoken civil society committed to tobacco and smoking control.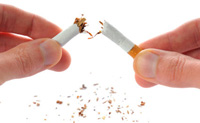 TV smoking scenes undermine health efforts

According to a Chinese Association on Tobacco Control study this year of 70 popular movies and TV dramas, only nine TV shows and 11 movies did not show smoking.

Tobacco firms advertise in loophole

Chinese cigarette firms have been accused of dodging a ban on conventional advertising by finding new ways to market their products online.

These companies have established online smoking communities, posted tobacco-themed micro films, and even developed Internet games that incorporate cigarette branding.