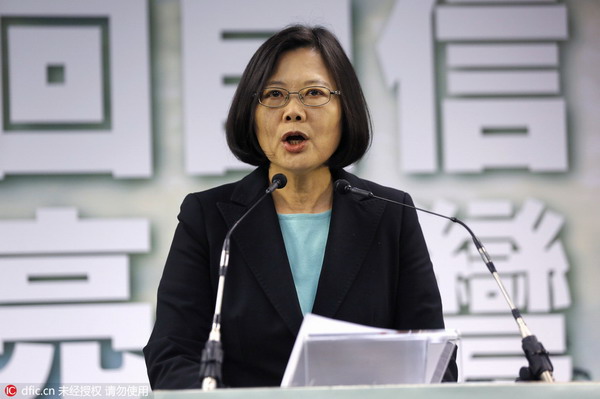 Taiwan's main opposition Democratic Progressive Party, DPP, Chairperson Tsai Ing-wen speaks during a press conference in Taipei, Taiwan, April 15, 2015. [Photo/IC]
In an interview with The Washington Post, when asked whether the mainland has a deadline by which the Chinese central government wants her to agree to the 1992 Consensus, Taiwan's new leader Tsai Ing-wen said it's unlikely that Taiwan will accept a deadline for conditions that "are against the will of the people". Qiu Yi, a famous Taiwan scholar, said on Saturday Tsai has finally showed her true intentions of seeking the island's "formal independence":
Tsai for the first time since she took office clarified her stance on the 1992 Consensus, by denying the one-China principle and ruling out the possibility of finishing her "incomplete test" in this regard. She even showed little concern about whether the mainland has a deadline for her to accept the Consensus.
What emboldened the Taiwan leader to make such an unequivocal comment is the July 12 ruling on the Philippine's South China Sea arbitration case. That flawed and baseless award repudiates almost all Chinese presence in the waters, including Taiwan-controlled Taiping Island, which it sees as a reef. Both sides of the Taiwan Straits have announced their decision to ignore the ruling.
However, this has also given Tsai a convenient excuse to make Taiping Island a humanitarian rescue and international supply base, which is little different to "loaning" the island to the United States and Japan for military use.
But it is nothing but wishful thinking if she believes the endorsement of Washington and Tokyo can take Taiwan a step closer to so-called formal independence. Take for instance, the cross-Straits trade exchanges: about 40 percent of the island's exports go to the mainland market per year, far greater than the around 24 percent to Southeast Asia, 10 percent to the United States, and 9 percent to Europe.
Not only are its exports highly dependent on the mainland, so too is the island's tourism industry. With fewer mainland residents visiting Taiwan after Tsai assumed power in May, the island expects an even sharper decline in visitors from across the Straits following the recent bus fire which killed 24 mainland tourists and two locals.
Industrial purchases from the mainland are also waning, as is the contract production of local agricultural products and livestock. The Taiwan economy surely needs the mainland's help, but there is no guarantee of that should Tsai continue her pursuit of splitting the country.