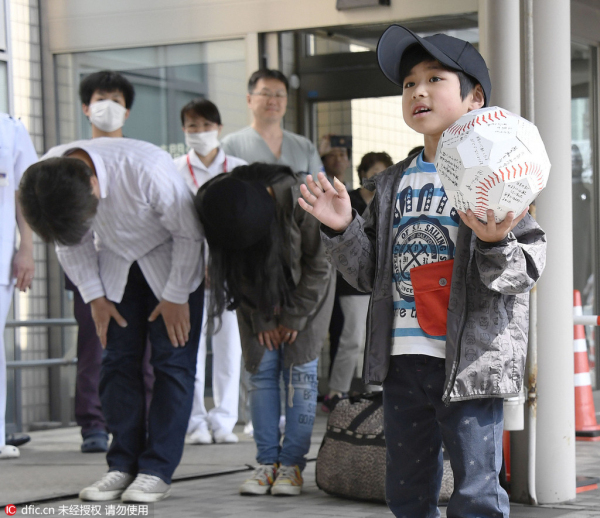 Yamato Tanooka, a 7-year-old Japanese boy who miraculously survived six days alone in a mountain forest, leaves hospital in the Hokkaido city of Hakodate on June 7, 2016, with his parents making a deep bow.[Photo/IC]
The rescue of seven-year-old Japanese boy Yamato Tanooka after he survived six nights alone in Hokkaido's woods prompted the whole of Japan to deliberate on how to properly disciple children. Tanooka's parents forced him out of their car and left him on a mountain road in the bear-inhabited forest on May 28 as punishment for throwing stones at cars and people.
While Japanese rescue workers and Self-Defense Force personnel were scouring the forest for Tanooka, he had walked almost 7 kilometers to a SDF training facility. He kept himself warm by sleeping between two mattresses and drank water from a tap he came across in the SDF training camp (he didn't get anything solid to eat).
The second grader's endurance and survival skills awed the whole of Japan. And his parents were condemned for treating their son too harshly-some people called for understanding of parental frustration, though.
Many Japanese parents consider disciplining children an important part of their children's development. As an old Japanese saying goes, there are four things to be feared in life: earthquakes, thunder, fire and fathers.
In old times, Japanese fathers were regarded as strict and men of authority. But it seems their authority (when it comes to raising a child) has diminished over the past generation.