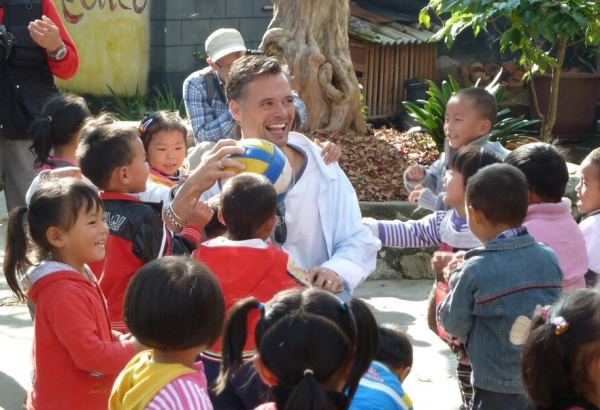 Brian's playing with kids around him. [Photo provided to chinadaily.com.cn]
Nowhere is the spirit of Chinese national hero Lei Feng better captured than in the life of Brian Linden. Brian, an American from Chicago, has been in China since 1984 and, unlike many foreigners, his interaction with our country has been solely to promote respect and recognition of our culture and traditions. He is not here to change China, introduce outside beliefs or condescendingly tell us what to do. Instead, he has made it his life's mission to remind China of the importance of its cultural traditions and help package these in an elegant and learning-focused manner to inspire others. The goal is to allow the world to see the traditional beauty of China and the miraculous economic and political changes that have occurred over the past 30 years. Brian believes that these soft power initiatives are integral in softening China's rise on the world's stage.
Brian calls China his Shifu, and The Linden Centre, three cultural retreats in Yunnan, are all based on national relics - they are 'love letters' to China's culture and peaceful rise. Brian, his wife, Jeanne, and two sons sold their American home, left their jobs and traveled around China from 2004-2006 to find an historic complex in which to develop their first model. They carried their boys' books (Shane was 8 and Bryce was 5) in their suitcases, lived in small kezhans and homeschooled the boys throughout their two year journey. They settled on the village of Xizhou, 20 kilometers north of Dali, and partnered with the local government to restore three striking examples of pre-revolutionary Bai architecture.
The Lindens have invested their life savings in the preservation of these three structures. They now serve as platforms for adult and child learning programs and sustainable tourism activities.
Brian works regularly with the local villagers (many call him "cunzhang", which means village head) employs and trains nearly 75 locals and lectures to visiting institutions and guests.
Brian, who hails from a very humble Chicago family, feels that the true beauty of his life has been a result of a China dream. He went from attending community college and cleaning carpets to scholarships at Johns Hopkins University, the University of Illinois and Stanford University; from working in a bar to meeting Deng Xiaoping and other Chinese leaders while working for CBS News in Beijing in the mid-1980s and traveling to nearly 100 countries while doing education projects from 1990-2004.
Brian's passion for China often brings his guests to tears. His respect for China, which goes beyond any financial reason, is an example all Chinese should follow. I am proud to have spent time with him in Yunnan and believe that he is Lei Feng incarnate!