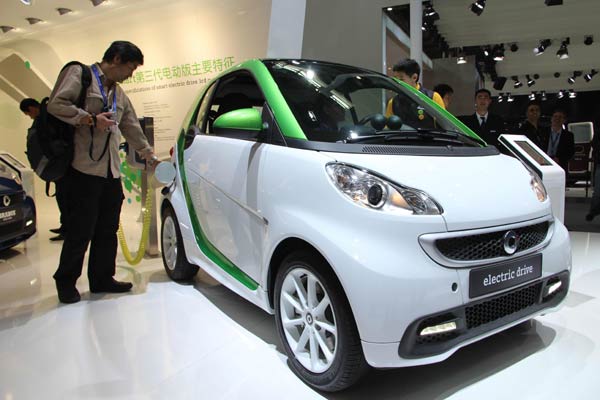 A new electric car is on show in Beijing. The future looks bright for electric cars in China amid rapidly fluctuating gasoline prices and huge investments by the government to promote use of clean energy.[Provided to China Daily]
A record 175 countries signed the Paris Agreement on climate change at the UN headquarters on Earth Day on April 22. In his opening speech at the signing ceremony, which represents a milestone in humankind's efforts to fight global warming, UN Secretary-General Ban Ki-moon said: "The era of consumption without consequences is over."
The grand prophecy, however, will not come true unless all countries take immediate action to tread the green path to economic growth.
This is why it was inspiring to see the installation of several recharging stations for electric cars in the parking lot of my residential community at the weekend. This shows local authorities in Beijing are doing their bit to help the city embrace electric cars.
Electric car owners in the community had a tough time recharging their vehicles with makeshift equipment. Stories about some electric car owners having to wait until midnight for their turn at the recharging stations were not uncommon.
The installation of a couple of new recharging stations has made life much easier for people who own the electric cars in the community. The number of electric cars may be small compared with the more than 1,000 gas-engine cars in the community, but it signals a new beginning for these cleaner vehicles in the city.
The sales of new-energy vehicles, including all-electric and hybrid cars, in the country more than tripled last year thanks to substantial government subsidies. Although scandals involving companies trying to cheat the government out of subsidies earlier this year slowed the sales of new-energy cars, the first quarter saw a 100 percent increase in their sales year-on-year. And of the 58,125 such vehicles sold, 42,131 were electric cars, up 140 percent year-on-year.