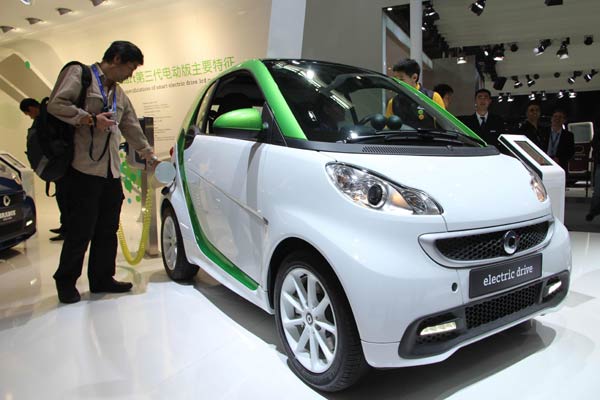 A new electric car is on show in Beijing. The future looks bright for electric cars in China amid rapidly fluctuating gasoline prices and huge investments by the government to promote use of clean energy.[Provided to China Daily]
China, which renewed a tax-exemption policy for new energy vehicles on May 18, is calling on Chinese automakers to submit a list of their models eligible for the promoting program.
Pure electric commercial vehicles, plug-in hybrids and fuel cell vehicles are eligible for the plan, which gives vehicle and vessel use tax exemptions of between 60 yuan and 5,400 yuan a year for owners of the vehicles.
This is the fourth time that the central government has rolled out a tax-free plan for new-energy vehicle owners, following moves in August, October and December.
Three government agencies — the Ministry of Finance, Ministry of Industry and Information Technology and Ministry of Transport — will examine information on the listed models and publish the approved cars for the public.
In 2012, the central government introduced an exemption from annual taxes for pure electric, fuel cell, and plug-in hybrid vehicles. That tax exemption policy is no longer applicable.
Local governments have also been helping the new-energy vehicle industry through the use of subsidies. Some cities grant free license plates to new-energy vehicle buyers but auction off plates to purchasers of gas-based vehicles.
Recently, the Beijing government announced that pure electric cars will not be included into its ban from city roads one-weekday every week.
A car that runs on gas is being eligible for half of the standard tax deduction in the new plan if the auto meets a certain fuel efficiency level.