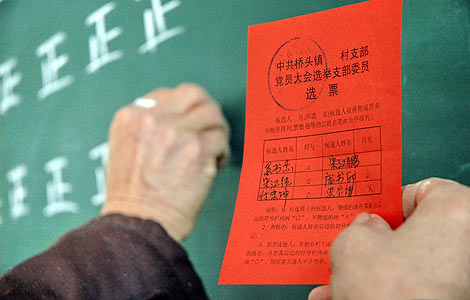 A man counts vote during an election of Communist Party of China chief at a village in Sheqi county, Hennan province in this Nov 26, 2008 file photo. [Photo/Asianewsphoto]
A researcher in politics at Hubei University of Economics in Wuhan, Central China's Hubei province, wrote a diary while working temporarily in a forestry department in a county-level district in the northwest of the province. Media reports quoting 96 entries from his diary have stirred heated discussions about grassroots officialdom. Beijing News commented on Wednesday:
The researcher, surnamed Jiang, wrote more than 300,000 words, and exposed some problems with the forestry district's governance system. "A frog is administrated by the water conservancy bureau if it is in water, by the forestry bureau, if on land," he wrote in his diary. "Every department cares about its power. But when something wrong happens, none stands out."
To solve the frog issue, the local government will probably set up a new temporary frog office. In the past we have seen watermelon offices and Chinese cabbages office to help the farmers sell their agricultural products. There used to be a steamed bun office in some counties and towns in Central China, where the wheat flour is the staple food, to strengthen the regulation of the steamed bun market.
If the coordination among different government departments remains rigid and inefficient, and if the officials only exercise their power while ignoring the responsibilities behind their power, it is of little meaning to establish a new office.
The Chinese government needs streamlining, instead of setting up new makeshift offices to solve urgent issues, which obviously reflects the failure of existing departments.
The public lacks legal means to urge the government to fulfill its duties. It is very difficult for a person or an organization to take the initiative to assume responsibilities and bid farewell to the easy benefits that come with power. It is natural for them to seek the advantages of power while avoiding the disadvantages of fulfilling their duties.