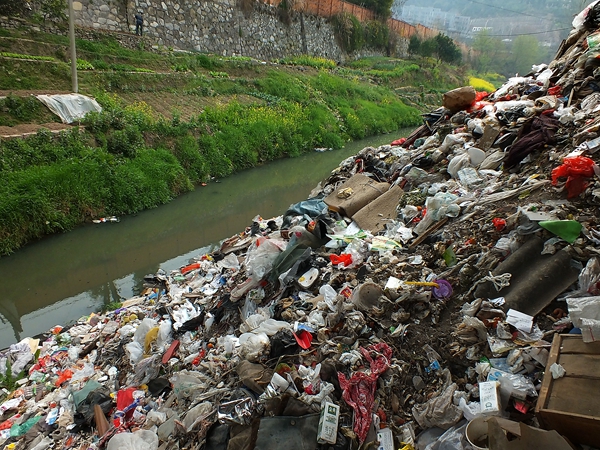 A river in Yichang, Central China's Hubei province, is severely polluted with garbage. [Photo/asianewsphoto]
On Monday, an official at the Ministry of Water Resources responded to a recent report suggesting that more than 80 percent of the water in China's aquifers is too polluted for human consumption by asserting China's deep underground drinking water sources are safe. Beijing Youth Daily commented on Tuesday:
That more than 80 percent of China's underground water sources are said to polluted, does not come as a surprise, as most believe that not only shallow groundwater, but also the water extracted from deep underground for human consumption, have fallen prey to serious contamination.
Keeping the deep underground water sources from being contaminated is already challenging and requires strenuous efforts, never mind treating water that has been polluted. And the nation's water will not be able to cleanse itself, because the threshold for so-called self-recovery has already been crossed.
In other words, no one is immune from the increasingly severe water pollution. For all departments concerned, the top priority should be to resolutely halt the illegal discharge of heavy metals and organic pollutants, regardless of the behind-the-scene power for money exchanges that may seek to deter their efforts.
The polluters who have always managed to exploit the loopholes in supervision deserve due punishments including being excluded from the market. Supervisors at all levels have to shoulder their responsibilities to keep industrial polluters and their illicit businesses at bay, instead of turning a blind eye to such misdeeds, and hold all officials concerned accountable.
Long-term management and targeted measures are also needed to curb the groundwater contamination. The Water Pollution Prevention and Control Action Plan, which was issued by the State Council a year ago, pledges to keep the "tightest-ever" rein on the management of the water resources in the country, but it fails to include deep underground water, which can affect the shallow water resources as well.
It is time for the relevant authorities to face up to the fact that many Chinese residents, be they urban or rural dwellers, have very limited access to uncontaminated water, due to the loose enforcement of the regulations on discharges of industrial waste.
Apart from informing the public of the severity of the groundwater pollution, they are obliged to make concrete efforts to end the extensive development mode, which has caused great damage to the environment and people's health.