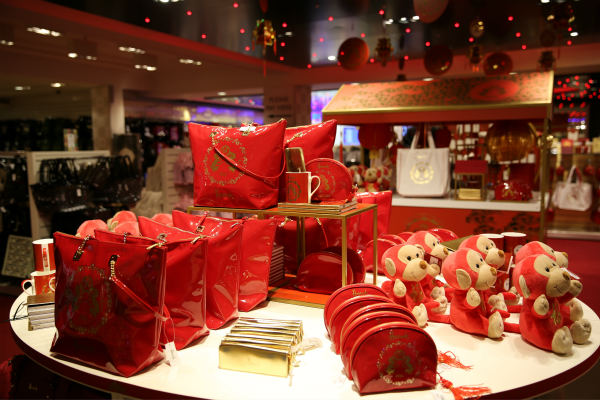 Items designed for Chinese New Year on display in Harrods Department Store in London, UK, Feb 2, 2016. [Photo by Liu Jing/chinadaily.com.cn]
It does not matter whether George Soros' less-than-cheering observation of our economy is worth the angry media barrage.
It does not really matter whether China Central Television's New Year's Eve Gala is relevant any more.
The upcoming Spring Festival is about life, about individuals, about families.
For those who need a fresh start, here is the chance.
The Year of the Monkey is one of promise. It is associated with intelligence, agility, vigilance, and, though a lot less gloriously, political prominence.
There is a long way to go before the nation can truly cure its obsession with positions in government offices. But the harsh disciplines imposed lately on public servants have made ambitious youths rethink their career choices.
Since the government is making generous offers to encourage innovation and entrepreneurship, there are more interesting, and rewarding, options outside of the bureaucratic establishments for the truly talented.
For those working on the lower end of the career spectrum, life has not been easy recently. The economic downturn has been cruel to those in low-skill manufacturing jobs, and the road ahead could be even tougher given the government initiative to cut "excessive capacity".
But with a little intelligence and agility of the monkey, that will not be the end of the world. So long as the government's words about the thriving service sector hold true, there is a whole new world out there.
But we need to see the government make good its promises of assistance and guarantees while they make the transition.
We need to see the government tighten the leash on public officials, so they do not get abusive and make life difficult for innocent citizens.
The biggest contribution the government can make to a truly happy Year of the Monkey, however, is to be sensible in its decision-making.