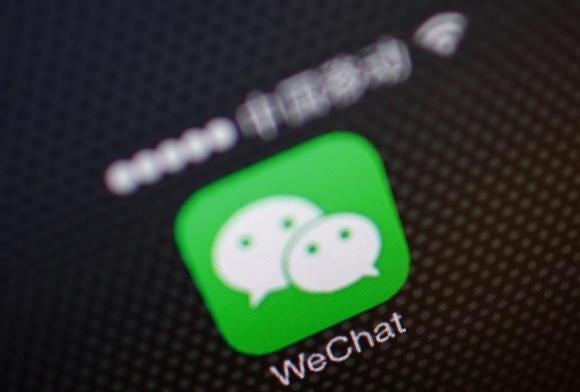 A picture illustration shows a WeChat app icon in Beijing, December 5, 2013. [Photot/Agencies]
WeChat is amazing. I use the popular instant messaging service provided by Tencent every day because it satisfies almost all my needs: information, entertainment, and of course, social networking.
My WeChat friends include not only acquaintances. Of my nearly 300 friends, one-third are strangers, whom I happened to link up with through other people because of shared interests, such as stock trading, marathon running or news analysis.
That was why one day when I got a request from someone with a poetic name and a photo showing a young beautiful woman to add her as a friend, I just clicked "add" without giving a second thought.
The things that she shares on WeChat soon caught my attention. Apart from some chicken soup for soul or sentimental twaddle, she stands out from the crowd by posting many selfie pictures - taken either in a fancy restaurant, beside a sleek limousine, or with people she describes as celebrities - showing off a luxury lifestyle incommensurate with her young age.
Her luxurious lifestyle seems well earned, because she apparently knows everything related to the money market, ranging from US non-farm payrolls, to West Texas Intermediate and US Energy Information Administration statistics, which she mentions randomly from time to time.
"The days when you can earn big money from stocks are gone," she often says. And here she offers to guide you along the road to riches through investments in precious metals and crude oil futures.
The game rules sound simple. You open an account with the exchange she works for, download the software to make transactions, and then trade on her advice. You can use leverages or margins. The odds of winning are huge, she claims, because she is backed up by a group of experts who can foretell the market trend.
What if they get it wrong?
The transaction system will help you cut your losses immediately, she says. In the long term, you will end up getting rich beyond imagination.
The crux is how much you dare to put in.
Obviously she has a lot of customers. The technical charts and screen grabs from some online quote systems she posts in WeChat often go with comments and advice that she gives to her clients, such as "Good job Uncle Zhang, 700,000 yuan ($108,000) in profits overnight from crude trading with 1 million yuan input, what a fortune you made", or "Congratulations, Auntie Liu, a 135 percent gain within hours from a silver price dive is really awesome."
It was not long before she offered me a ticket to board her bandwagon of fortune.
"Why not join us. Gains guaranteed?" I had to admit it was hard to resist the temptation of wealth just clicks away.
But wait a minute. This clarion call to wealth just sounded a little too familiar. Previously I was constantly disturbed by phone calls and short text messages inviting me to attend forums on stocks or offering me low interest loans; although, I find these have become markedly less frequent now.
Is it that they have just morphed into a more covert yet enticing form, for who would decline a kind and harmless invitation from a beauty to be her online friend?
It is not hard for me to get the answer.
A search on the Internet reveals thousands of online fraud cases involving young and beautiful women friends on WeChat. In one case a man from Shaoxing, Zhejiang province, lost 400,000 yuan in a month in crude oil trading last year.
So here is some advice: Don't talk to beauties on WeChat.
The author is a senior writer with China Daily
huangxiangyang@chinadaily.com.cn