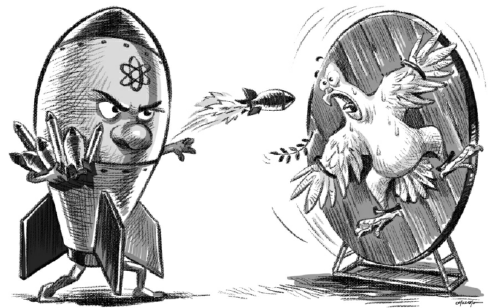 After the Democratic People's Republic of Korea claimed on Wednesday it had successfully carried out its first hydrogen bomb test, Beijing immediately expressed its concern and called on all parties to "get back on the track of resolving the Korean Peninsula nuclear issue through the Six-Party Talks".
The nuclear test, which Pyongyang said was to "secure its right for survival against threats from the United States and other countries", was the fourth by the DPRK and the second after the country's top leader Kim Jong-un assumed power over four years ago.
On the one hand, it indicates the national resolve to realize Pyongyang's nuclear strategy, after it was included in the country's revised Constitution in 2012 for the first time, and served to help celebrate certain domestic political events, including Kim's birthday.
On the other hand, it seems that Pyongyang is misjudging its own strength and hopes the international community might eventually accept its "rightful" possession of nuclear weaponry, which is scarcely possible.
These explain its relatively active diplomatic performance in the past two years or so (without mentioning the nuclear issue), as well as the two DPRK rockets launched in 2012 and the third underground nuclear test the following year.
It is highly unlikely that the international community will accommodate Pyongyang's nuclear arsenal, however hard the DPRK diplomats try to do their job.
That the US President Barack Obama, in the last year of his presidency, is busy with the Middle East affairs and promoting gun control, while Republic of Korea also has an upcoming general election to attend to, may have convinced the DPRK that they are less likely to impose strict sanctions on it. But it is wrong if it assumes that China would refrain from tough measures for the sake of the improving ties with the DPRK.