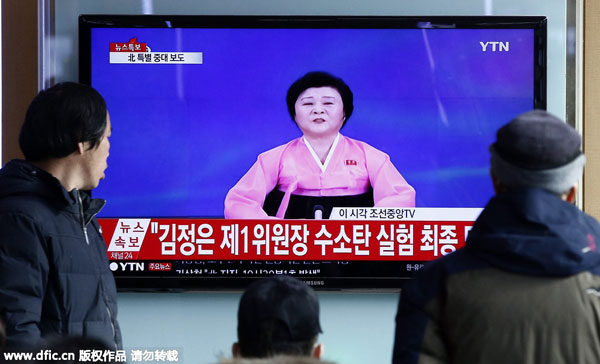 People watch TV news showing the DPRK's breaking news, at Seoul station, in Seoul, the Republic of Korea, Jan 6, 2016. [Photo/IC]
The Democratic People's Republic of Korea announced on Wednesday that it had successfully tested its first hydrogen bomb. China Daily's Zhang Zhouxiang interviewed three experts to bring readers their views:
China has long insisted that its cooperation with the DPRK be based on the latter not conducting nuclear tests. What the DPRK claims to have done on Wednesday violates that principle and will damage Beijing-Pyongyang relations.
Worse, it means more trouble for China because the US might strengthen its military presence in the ROK. The US has been trying to deploy anti-ballistic missile defense systems in the ROK, and China has been persuading the latter not to agree to it. By claiming to have tested an H-bomb, the DPRK has offered the best excuse to the US to get the ROK's nod to do so.
Moreover, Japanese Prime Minister Shinzo Abe has condemned the DPRK's nuclear test and it is highly possible that his fellow right-wing politicians will devise their own nuclear program as a deterrence to the DPRK. If such a scenario becomes reality, it will undermine China's strategic arrangements in the Asia-Pacific region.
To prevent this from happening, China needs to take more effective measures to prevent the US from exploiting the situation and quicken its pace to deploy anti-ballistic missile systems in the ROK. China also needs to coordinate its measures with Russia to exert more pressure on the DPRK to abandon its nuclear program.
Gao Cheng, a researcher at the National Institute of International Strategy, Chinese Academy of Social Sciences